Some smells reminds some warm memories..and COFFEE did the same..

People are addicted to different things & when it come to me..coffee make a wonder ..
i love coffee

- THE Experience...of enriching the thoughts and feeling...moving on the ride into the sweet memories lane sipping slowly each aromatic

gulp

of coffee. Coffee have been linked up to the wonderful time i had in life...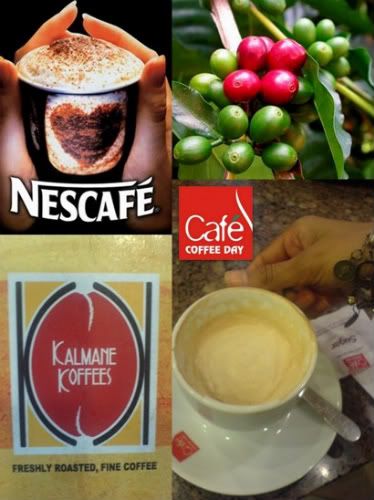 My coffee ride started a long back at home when my mom used to prepare coffee for me during winters.
NESCAF'E
has been the best brand of coffee in INDIA .
Nescafe
is still the one
dat
i keep
in my
kitchen closet..its quick to make and nothing can destroy its flavour and aroma.
College and coffee went hand-in-hand. Hectic College
timings
made me walk into the restaurants for coffee..and then it was
CCD
, Cafe Coffee Day at the door-step. Hanging out with friends in
CCD
was the most awaited thing in my whole day at college. The cozy sofas and rocking music, all added up fun' sipping Coffee. And as the logo of
CCD
says...indeed there is a lot more we can do on the coffee table.
Moving on in life...here I am in
B'lore
and the CRAZE for COFFEE is still there. And here I discovered
KALMANE

KOFFEES

.
Kalmane
koffees
have a great interesting history as follows:
In
1879
, the rich soil of
Kalmane
estate gave birth to its very first Coffee Plant. Today,
125 Years and four generations
later, the estate sprawls
across
1000 acres in
Chikmagulur
,
Karnataka
and grows uniquely flavoured
Arabica
Coffee

inter cropped

with black pepper
.
Kalmane
estate is also known for its superior quality high grown
Robustas
to
yield
exceptionally washed
Robustas
. This coffee specialised restaurant attracts all generations to enjoy almost about 19 variety of coffees.
They indeed use the freshly
crushed
beans for the coffee which makes it so aromatic, smooth and pleasant to enjoy. The price ranges have all type of people to serve. The place is warm and just perfect for sipping coffee.
It have its own USP of serving the traditional south-India Filter coffee, flavoured differently with cardamon, cinnamon and very famous Mysore Nuggets.


Expresso
coffee have about eight variety to choose. One can also choose the
beans
they prefer to have and buy after being crushed and made powder just in front of you.
At present
Kalmane
Koffees
have
around
6 outlets in Bangalore and the way it serves, I am sure its going to be sooner all over India.
But how a "

gulp of a joy-coffee endangered the species

(Rhino, Tiger and Elephant )" living in the forests... Beleive it or not but its true..as reported by the world's largest and most experienced independent conservation organizations "WWF".
Coffee lovers like you and me all over the world are unknowingly drinking coffee that was illegally grown inside one of the world's most important national parks for tigers, elephants and rhinos...
somewhere it really shatters whenever NOW i smell coffee...make sure you read out this shocking story..and what the biggest company of coffee producer
STARBUCKS
need to say..
..Let the..."GULP OF JOY-Coffee" be not Hook for the forest Habitants...

..

Expresso

Yourself....!!
Read More..