Yes!
My hubby
cooks. And what
an irony!
He can cook all that I can't. Infact, he loves all those vegetables which I don't like very much to eat. However when, he cooks anything like that, he somehow convinces me to taste it and then I end up just appreciating his cooking skills. Indeed, he is really good cook. It's usually the weekends when he innovates and rejuvenates in kitchen making something.
Last Sunday he tried his hand in making arbi/arvi/taro roots. With almost only the basic spices nothing extra, he made those ugly arbi into hot spicy delicious looking recipe. And when asked for the name of the recipe, he in a very lavishing loud way said, it is "
Arvi Masala Fry
".
He is quite fussy in adding the specific spices. This excessive attention creates his own very

personal homely tastes

in anything he cooks.
Like me, He also does not like anybody entering the kitchen and interrupting him when he is cooking. Despite that, I somehow managed to take
few good pictures
to add in this post. This recipe is quite easy to prepare and best part of this recipe is that one who doesn't like to eat taro roots, will also appreciate the flavor. Hope you will enjoy!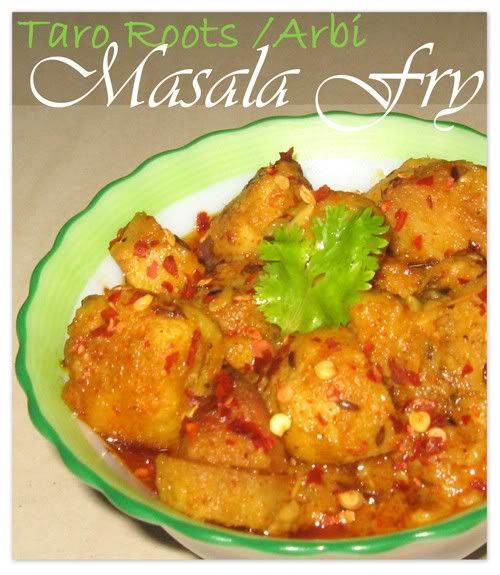 So let's start with some basic facts of taro roots and followed with the recipe directly from hubby.
Taro root

is starchy tuber vegetable much like a potato. It has its native to Asia and grown extensively in the Pacific. Taro roots have its estimates in cultivation in wet tropical India before 5000 B.C. In North India, it is called Arvi or Arbi. In Assamese it is called Kosu. In Bengali the root is called gath and the plant is called Kochu. In Kerala, a state in southern India, taro corms are known as Chembu-kizhangu. It is used as a staple food, as a side dish, or as a component in various side dishes.
Recipe "Arvi Masala Fry":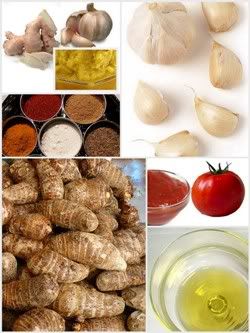 Ingredients:
Taro Root (arbi): 4-5
Ginger-Garlic paste: 1 tsp.
Garlic pods: 10-12 nos.
Tomato Puree: 1 tablespoon
Turmeric powder: 1/4 tsp
Chilly powder: 1 tsp
Coriander powder: 2 tsp
Cumin seeds: 1/4 tsp
Salt to taste
2 Tbs oil
Red chili flakes for garnish
Boil the taro root in water for about 10-15 minutes until barely tender when pierced with the knife. It should be firm and not too mushy.
Then take out of the hot water and cool enough to handle, trim the ends and remove the skin. Cut them into chunks or small cubes.
Now deep fry the taro chunks/ cubes until golden brown. Strain them and keep aside.
Now take the dry spices powder (coriander, red chili, salt, turmeric) in a small bowl and add the tomato puree and little water to make it a thick paste. Leave it aside.
Take the garlic pods, crush them and finely chop them.
Than, heat oil in a pan, add the cumin seeds let it spatter.
Now add the fine chopped garlic. When, the garlic turn golden brown, add the ginger-garlic paste. Stir it. Cook for a minute and then add the spice paste and let it cook until it leaves the oil.
Pour half a cup of water, if spices stick the bottom of the pan.
Now add the fried taro chunks /cubes in the pan. Carefully stir them and cook them in low flames until dry and golden brown.
Garnish with red chili flakes. Serve with rice or chapati.
NOTE:
Boiling the taro roots, reduces the cooking time.
Frying the chunks/cubes of the taro roots makes more delicious and a very specific rough taste of the arvi/taro roots is gone.
You can also add the fresh lemon juice to enhance the flavors of the gravy.
This recipe was made last weekend, you can try this coming weekend :)