Dal or lentils is the staple food in every Indian home. Lentils, you'll find in almost every Indian kitchen. For the vegetarian, lentils are the complete delight diet as a common source of
high protein
. Lentils are boiled to a stew-like consistency seasoned with a mixture of spices. In some recipes, the lentils are boiled with vegetables and know as rasam and sambhar.
South India has recipes of rasam and sambhar where the lentils are boiled with vegetables. In India, each region has its own favorites and cooking methods of lentils. I'm here sharing my home recipe for the "
Mix of lentils
". The Split Black lentils (Urad dal) is the main lentil mixed with the other lentils like toor/arhar dal (yellow lentils/pigeon pea) and chana dal (Split Chickpeas), tempering with garlic. The
best combination for a healthy diet
this recipe has, that it has
low fat
and high protein.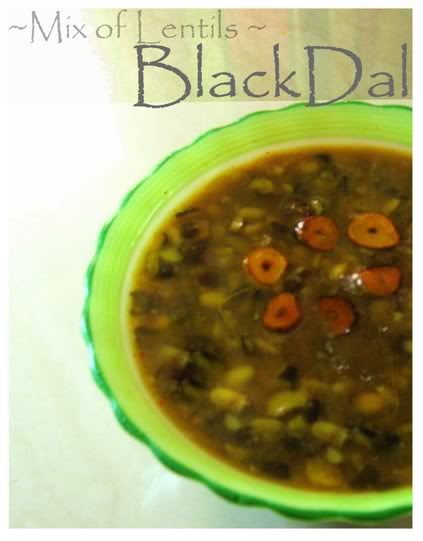 This recipe is quick to make and being high in protein, simply very deliciously healthy to relish. Also adding this recipe today, have a genuine reason as this is my Paa's favorite dish and today is his Birthday too. So here's wishing

Happy Birthday Paa!

Enjoy!!
Serves
easily 2 Pax:
Ingredients
for Recipe:
Split Black Lentils(Kali dal with cover) - ½ cup
Split Chickpeas(Gram/Chana dal) lentils – ¼ cup
Yellow(Arhar/Toor dal)Lentils – ¼ cup
Garlc Flakes – 4-5Nos.
Green Chilli- 1 Nos.
Salt - 1 teaspoon (according to taste)
Turmeric - 1/4 teaspoon
Red chilli Powder- ½ teaspoon
Coriander Power- ½ teaspoon
Ghee (clarified butter) - 2 teaspoons
Water- to pressure cook/boil.
Making
of the recipe:
Measure the lentils in the cup and wash in water for a couple of times. And keep aside rinsing it.
Chop the green chili roughly.
Now take water (around 2-3 cups) in the pressure cooker and add the lentils.
Also add the chopped green chili and other all dry spices with salt into it. Mix it well.
Now cover the pressure cooker, and cook for 2-3 whistle.
When the whistles are done, open the cooker and check the lentils are cooked. The lentils must look cooked and soft. To check take a gram lentil in hand and press to find it soft in texture. If not done, cover it and let one more whistle.
In the mean time, cut finely the garlic flakes for tempering.
Take a ladle or pan for tempering. Heat it; add ghee and then the fine chopped garlic flakes.
Let the garlic turn golden brown. Quickly add this golden brown garlic into the dal (lentils) prepared. Cover with the lid, the vessel/cooker and let the smoke mixes well with the lentils. Keep on rest for couple of minutes.
Serve hot. Enjoy with warm rice or chapati and pickle as side dish.
NOTE
:
You can soak the lentils in the water for 10-15 minutes prior cooking.
Ghee must be used. Substitute is Butter.
I have also added just ¼ cup of Urad dal gives smoothness to the Dal. Of coarse it is optional.
Also I love the Toor/Arhar Dal so I have added it you might skip it. But adding it will only add on the protein so

no worries

:)
After the dal/lentils are cooked and before tempering, you may also just a

bit mash

the dal/lentils with the laddle so that the juices of different dals/lentils mix up well.
But definitely in this particular recipe of Black Dal, the tempering must be done of the

garlic

.
If you don't have a pressure cooker, then a small vessel can be used to cook.
Keeping this recipe in the thick texture add more flavor. So use the water accordingly.