Winter
waves have already begun in all parts of the country.
Eat hot spicy food to overcome the winter blues. And I'm right here with my own way using the left over rice.
Rice mixed with
numerous colorful vegetables
and
flavored with the spices
, is a great amalgamation to
enrich the multiple flavors
and is an energy booster. Adding lots of vegetables to add fibre and to stay satisfied with healthier food.
You might just like to add the butter over the hot rice oozing out making it even yummier!
It's indeed a perfect in winter's recipe!
So don't be bored or suffer from the grey clouds or the lack of light in this winter, pick your own basket of favorite flavors of the vegetables, give a burst of energy and

zing on your own to cook this very easy recipe

.

Enjoy! This fried rice is delightfully delicious, will warm you up in winters.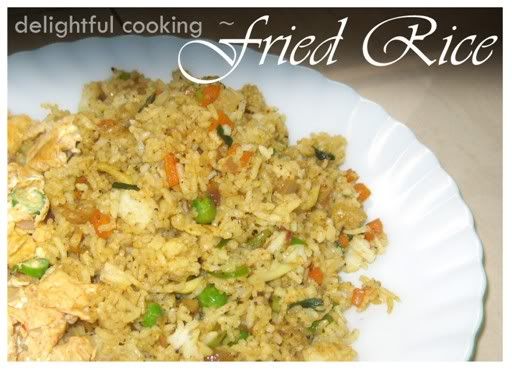 Ingredients
for making fried Rice: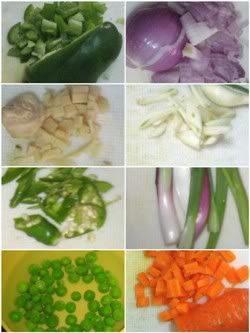 Rice (cooked) - 2 cups
Oil - 3 tbsp
Capsicum Finely Chopped - 50gms
Carrot Finely Chopped - 2 Nos
Peas – 50gms (1/2 cup)
Onion Sliced - 1No.
Cabbage Finely Chopped - 100 gms
Spring Onions Finely Chopped - 2
Green Chilies fine chopped - 2-3 Nos.
Ginger Chopped Finely - 1 tsp
Garlic Finely Chopped – 5-6 flakes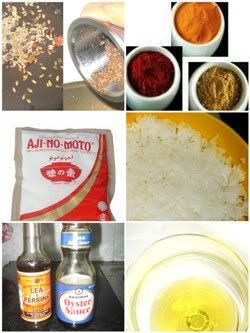 Red chilli powder- 1 teaspoon
Turmeric powder-1/2 teaspoon
Coriander powder -1tsp
Black pepper- 8-10
Cumin seeds- ½ tea spoon
Cinnamon – ½ inch
Sugar- ½ teaspoon
Salt to taste
Worchester sauce – 1 tsp.
Oyster sauce – 1 tsp.
Method of

making fried Rice

: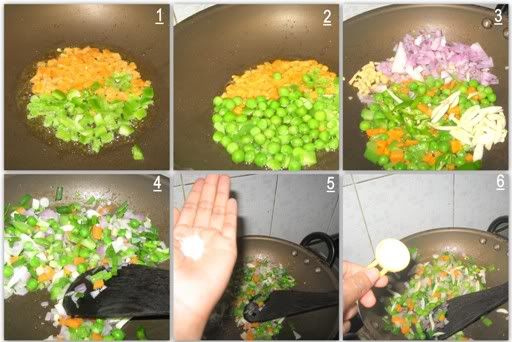 Heat the pan, add the cumin seeds, cinnamon stick and black pepper. Roast them for a minute and then crush them into powder and keep aside.
Now heat oil in a pan. Fry carrots and capsicum.
Add peas and stir well. Keep the high flame.
Now add onion, ginger, garlic and green chilies, stir well.
Keep stirring and now add the spring onion, on medium heat.
Add the sugar and salt simmer for a minute.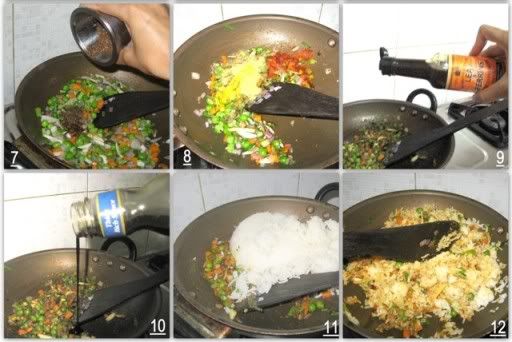 Add the crushed powder and stir well the vegetables.
Add turmeric powder, red chilli powder and coriander powder, simmer for 2 minute.
Mix in the sauces in to the vegetables.
Add the boiled rice into the mix of the vegetables and stir continuously till well set.
On the slow heat cover the pan let it set (for about 2 min).
Delicious spicy fried smoky rice is read. Serve hot.
Note:
The soya sauce is alternative for Worchester and oyster sauce. However, its really

fun to have different sauces

at home to add and create a change in flavors. Trust me oyster sauce is fabulous!
You can add shredded cabbage also, simply any vegetable, even paneer chunks or omelet pieces. Enrich your dish with more nutritious.
Cooked rice could be your let-over rice…So what are you waiting for, make the best use of them to relish your tastes.
Add the ajinomoto salt to enhance the flavors.
Deseed the green chilles, to avoid the sting hot flavor.
Keeping the

half cooked vegetables

only enrich the nutrient of the food.
~ Hope you liked the recipe, so do try at home and let me know how was your recipe!!
~ Enjoy your Winters:)