Recently, I was reading an article on
Tortillas
and I found, there is so much of similarity between the
Tortillas
and Indian flat bread. Well, Tortillas are a staple food in Mexico and Central America and have a very long traditional history.
"
Tortillas are
round, thin, flat bread
of Mexico made from unleavened cornmeal or, less commonly, wheat flour. The grains were ground on a stone saddle quern. Small pieces of dough were patted by hand into thin disks. The tortilla was then baked on a, a griddle of earthenware or iron. Tortillas stale quickly and are usually bought fresh daily or even for each meal.
"
Ref. Encyclopedia Britannica.
Somehow, all this reminded me of Thepla. Indeed,

Thepla or any Indian Bread is similar to a flour Tortilla in appearance

. Thepla are round, thin, flat bread of Gujarat made commonly with wheat flour like tortillas of Mexico.
I have always loved the bitter taste of (Methi) the
fenugreek leaves
. And when it comes to Thepla , Methi- Thepla is my favorite. It is rich nutrition and flavor. I can eat it in breakfast or in lunch or even in evening with tea. Actually, anytime for Thepla! The best thing about Thepla is that one can enjoy eating it either warm or cold.
Thepla
is always a delight making and eating it.
I am sure you will also enjoy making and relishing it. Thepla is one of the easiest dish's to prepare with all the ingredients easily available at home. So enjoy.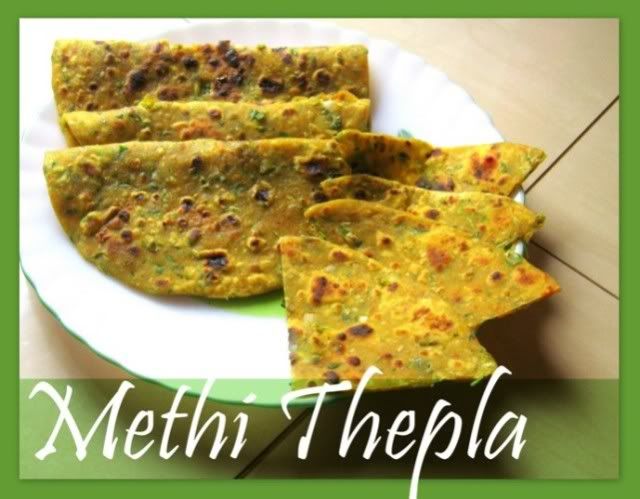 CLICK
picture to Enlarge:
Methi
Thepla
/
Indian Flat Bread
/
Indian Fenugreek
Tortillas
Recipe.
Fenugreek (Methi) leaves : about half a bundle or 2 handfuls.
Whole wheat flour : 1½ cup (Shall make 6-8 thepla)
Chickpea flour (besan) : ½ cup
Curd/yogurt : 2 tablespoon
Green chillies : 2-4 (According to Taste)
Garlic Pod : 6-7
Turmeric powder : ¼ teaspoon
Red chilly powder : ¼ teaspoon
Coriander (dhania) powder : ¼ teaspoon
Sugar : ¼ teaspoon(optional)
Salt to taste Oil for making thepla
Carom seeds (Ajwain) : ½ teaspoon
Ginger : 1 cm piece (fine chopped)
Fennel seeds (Saunf) : ½ teaspoon
Cumin (jeera) : ¼ teaspoon
Clean the fenugreek leaves (methi). Wash them thoroughly in water.
Finely chop the fenugreek leaves (methi), green chillies and garlic pods.
Heat a little pan, add fennel seeds, cumin seeds and carom seeds. Roast till they start crackling. Remove from the heat and roughly crush the seeds.
Take a bowl and mix the wheat flour, chickpeas flour (besan).
Now add the spices powders, salt, roughly-chrushed seeds and the fine chopped fenugreek leaves (methi), green chillies. Mix it well.
Also add a table spoon of oil and two big spoon of curd.
Than add water slowly to knead to make a nice smooth dough. You may use around ½ cup of water. The dough shall be smooth and soft.
Cover and leave the dough with a cloth and set aside for about 10-15 minutes (for better results 20-30 minutes) .
To make Theplas/ flatbread, divide the dough into equal large lemon size balls.
Take a dough ball, dust with flour and roll out to a flat thin disc. Heat a tava/pan (griddle).
When well heated, place a thepla on the tava. Roast on medium flame both sides using the oil just like tortillas/ or any othe Indian Bread. Please refer to the link (Paratha-Indian Bread), to see the roasting steps.
Serve hot. Enjoy with pickle, chundo or curd.
NOTE :
Chundo or

Chunda

is a sweet and spicy pickle made from shredded raw mangoes.
One of the major difference between the methi thepla and methi paratha, is that Methi Thepla is much thinner than paratha. But definitely its your choice how you wanna to have, thin or thick, you will enjoy it.
Ginger, carom seeds, fennel seeds, cumin seeds enhances the taste, however take them as optional.
I like the flavor of garlic, so I add it. You might leave it.
Theplas can be stored in the airtight container for at least 2-3 days.
Dry fenugreek leaves can also be used, but fresh gives richer flavor.

Active your senses

and add the ingredients according to your flavor and avaibility.
Make sure you try your hand in making this today!