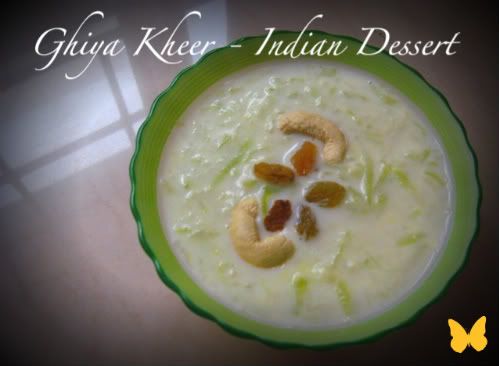 My
mom makes a simply perfect kheer with Ghiya/lauki. The best thing about this kheer is that it is very healthy to eat, moreover its quick to make. The best thing about
Ghiya Kheer
is the salient
creamy green colour
. It cool green colour appeals me, the most. This dessert is very tasty and easy to digest. Serve it hot or cold to your guests, or just enjoy is dessert with the dinner. Check out the list of ingredients mention below to prepare this Indian dessert.
Ingredients:
Bottle Gourd (Ghiya or Lauki) - 250 Grams

Sugar - 200 gms

Milk - 500 gms

Green Cardamoms - 6Nos.

Cashew nut - 10-12 Nos.

Raisins - 10 gms.
Procedure of Making:


Boil Milk in a deep pan for 15 Min. Non-stick pan shall be prefered.

Keep stirring it occasionally on the slow flame.

Wash, peel bottle gourd and grate it nicely.

Add this grated lauki/ghiya to the boiling milk in the deep pan.

Cook it, till the milk is reduced to half of the original quantity.

Add sugar , raisins , cardamom powder and cook for 5 mins.

Keep aside and allow it to cool.

Garnish it with more of raisins and cashew nuts.
Serve it hot or cold to your guests, or just enjoy this dessert after the dinner. I like to eat it chill, in the morning. How do you like it, do write to me..!
Note: This blog, is to celebrate the spirit of summer with seasonal fruits and vegetables in the WBB–Summer Feast for July,08 announced by blog Monsoon Spice.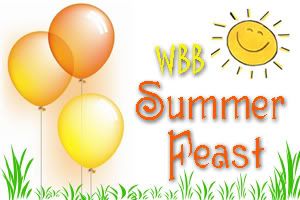 "I write the blog
not because
I need to but because
I want to."
..Blog Author
Hope you liked our article. Don't forget to share your view or link to us. Thanks!