I,
have been always facinated with the way of celebrating the typical Indian wedding, which is full of differnt traditions and rituals that are followed for days to marriage. I love attending the
groom's
baraat
at night and also dancing to the loud
beats and tunes of the band
. Dancing and reaching to the bride's home and simply hitting the food corner. But the other side story of the bride's is really amazing.



Every girl longs to look at her best and as beautiful as angel on her wedding day

.
In
India
SHAADI/Marriage is termed as one of the major occasion and celebration of life. Its all about the celebration,
new relations
, happiness,
decorations
, delicious food, variety of Indian
sweets
, party, friends get-together,
blessings
and above all shopping the bride and groom's grant dresses. The bridal dress adds more colours to the auspicious occasion. Often a
girl aspires
herself to look like any other beautiful actress in the bridal wear.
Madhuri Dixit
in HAHK,
Kajol
in KKHH,
Rani Mukerjee
in KANK,
Prity Zinta
in KHNH, and many more bollywood actress have made their mark with the designer's bridal wear.
The wedding day is one the most special day in her life, where she a monthes before starts planning about the ceremony. A dream that the girl and her parents share together since her childhood. Same way it is also the moment for the others, who anxiously wait to have a glimpse of enchanting bride's looks, for which she have been planning for long.

I also had an imaginative picture for my bridal wear. More thinking, I laugh as I remember long back in my school days, one of my very best friend

Tanushree

said, that

"ME"

being good in art, must sketch and design my own unique bridal wear.

While my wedding day shopping was done, I made sure to have a good survey of undersanding the fabric, budget and the unique design of my bridal wear.
Wedding dress is so special and attached to lots of joy and happiness, which together makes it so memorable. It was hot
June month
, sweating and searching for the bridal dress that would hold up the sight.
Finally I tried my luck to the mall close to my home,
Pacific Mall, Ghaziabad
. Under one roof
Chhabra555
, I found a huge collection of variety in colours, style and pattern in dresses to suite all types of budget at no compromise over quality. This uniqueness of
Chhabra555
impressed me and I bought my wedding and reception dresses from there. It is not only a fantastic place to hang over but I found it very comforting and easy shopping from this particular shop.
Reddish tones
was the shade, I wanted for my traditional Indian wedding outfit that is lehnga. Bridal lehngas are available in every possible cuts, styles and fabrics. A-lines, fish cuts, mermaid styles, kalidar lehenga styles are quite popular in bridal lehengas.
I
chose it to be grand and elegant so
Kalidar style
on the
Crepe fabric
worked simply excellent.
My Lehnga-choli
had famous work of
Zardosi
lehnga which belongs to Rajasthan and Gujarat.
Rich brocade, looked glamorous and elaborate with its
contemporary patterns
. The golden pattern was indeed unique as it did not consist of any floral embroidery but had diamond shaped lines all over the the lengha-choli. I took one extra chunari with the light weight and with same color tone but with floral design which looked great with the contemporary patterns of lehnga.
Exclusively heavily embellished gloden jewellery,
gajra
(flowers) in hair,
mehndi
in hands, made all the difference in making the perfect looks of the
Indian Bride
. And not forgetting to mention that the elegant
off-white Sherwani
with the tints of Embroidery made my hubby, too looked good. Also a
bandini print
red tone stole with the gloden-red shade
pagadi
on head, amalgated and completed the outfit so well .
Here, are some

glimpes of my wedding ceremony

which are indeed the

timeless moments

of my life. It was in the rainy season on

23rd July,2007

so I regard it as "Monsoon Wedding". I shall be celebrating the first aniversary of my marriage soon, hence blog is comming on its way at the best time.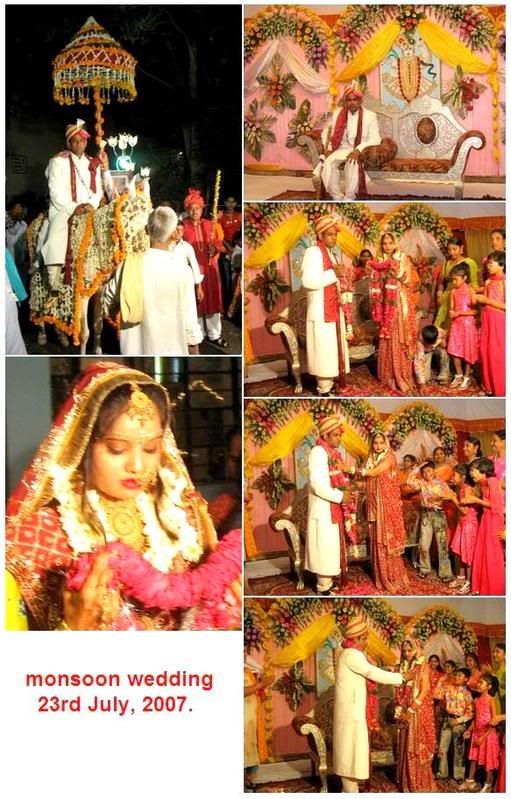 Other people who are intersted in buying the bridal wears can go through these sites links:
"I write the blog
not because
I need to but because
I want to."

..Blog Author

Hope you liked our article. Don't forget to share your view or link to us. Thanks!