Raw Banana Cutlet
Buying the vegetable from the shop is a headache for me. What to buy and what not to, there is always so much of variety. I almost get confused. And in this confusion I bought raw green banana .It was a mess decision indeed, as I had never cooked anything with green banana. What to do? And two days passed ignoring the green banana kept in the fridge.

Well, today was a innovation day and finally I discovered eating the hot golden crispy banana cutlets. I am more excited to make these cutlets as today is my cousin Aman's birthday. He turned six years old. A naughty but cute little boy is very much fond of banana. Hence, making this dish on his birthday gives me great happiness.
So here, I am sharing my recipe with you. You can be more innovative to make further changes to enjoy according to your choice and taste.
Ingredients:
Raw banana - 1 Nos.

Potato - 2 Nos.

Bread crumb - 50 gms.

Cornstarch - 20 gms.

Red chilly - 1 Nos. (optional)

Green chilly - 2 Nos

Spring onion - 10 Gms (optional)

Ginger - 10 gms.

Cumin Seed & Ajwain - 10 gms.

Red Chilly powder - 1tsp.

White sesame - 1 tsp. (optional)

Sugar powder- a pinch (optional)

Salt as per taste.

Oil to deep fry.
Boil the raw green banana and potato. Peel both the banana and potato, and mash together in the bowl.

Chop finely the chilly, ginger and spring onion and mix it with the boiled mashed banana and potatoes.

Roast the cumin seeds, ajwain and black pepper. Crush roughly the roasted seeds. Roasted spices adds more flavour. Add this also with other remaining spices with cornstarch and sugar powder in the mashed mixture made of boiled banana and potatoes.

Make small portion of size of walnut and press make cutlets.

Be innovative and create

any shape, round, circle, oval, trinagle etc. Wrap up the cutlets with bread crumbs. This shall work as the binding agent. Sesame seeds can also be added to the cutlet.

Heat the oil in the shallow pan . When the oil is warm, deep fry the cutlets until golden brown on the medium flame. The cutlets must not be very thick in size, this shall help to cook well and crispy.

When golden brown, take them out on the tissue paper to extract the extra oil.

Enjoy the golden hot and crisp cutlets with green coriander or mint chutney or simply with tomato sauce. My hubby liked this cutlet between the two breads as sandwich. So have it in the morning as a breakfast as banana is good for health or just have it crisp as brunch with the hot cup of ginger tea.
NOTE:

This dish "Raw Banana Cutlet" is dedicated to the WBB-Feast. Deadline for this event is July 31st, 2008. Rush and post the recipes with your picture of dish & mail to Sia. Check out for more details to MonsoonSpice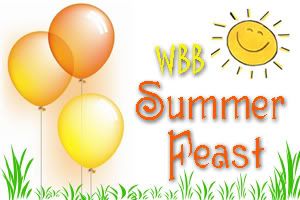 Hope you liked our article. Don't forget to share your view or link to us. Cheers!