Kids hate it. They make the tongue itch, some kind of an allergy, I guess! But these are stocked with vitamin B and its relatives. As well as potassium, iron and zinc in abundance. They are also an excellent source of fibre while it is low in calories and blissfully free of sodium and fat. In India people love to call it
"Baingan Raja"( king brinjal ).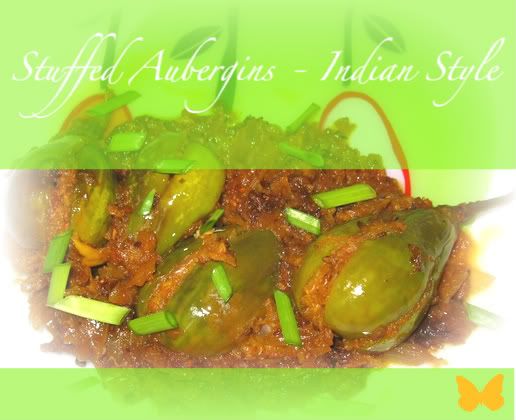 Roast, stir, grill, frying all can be done with this glossy skin, soft, chewable texture vegetable. I personally do not really like aubergine much but when it comes to
stuffed-aubergine
, I simply love them. Though a preparing the
mis-en-place
takes lots of time but its worth when one tastes it.
Aubergines come in a wide variety of shapes, colours and sizes. Aubergines can be the size of a grape to realy big one; the seed-filled, rounded, some also has green stripes and some are the beautifully long and slender pale-purple, the aubergine can also be ivory-coloured, certainly led people in some countries to name it the 'eggplant'.
It is known with many names like aubergine, eggplant, brinjals, same way in Indian there are many variations made to cook them in terms of the spices used.
From tamarind, curd, peanuts, coconut many different spices are used to enhance the taste. I use none of the above mentioned spices. As I have always believed in, to keep it simple yet delighting. Here, I am using small sized
Green eggplants
.
Stuffing the aubergines takes time , so have patience. The best thing about the stuffed aubergine is one can store then in
cold storage
for atleast a week and enjoy taking one out heat a bit on pan and enjoy it either in lunch or in brekfast with paratha/bread. Please go through the recipe and your will fin it indeed simple to make, but consumes time.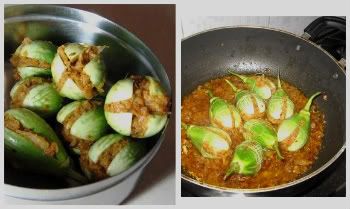 Ingredients:
Small rounded firm brinjals - 8 to 10 Nos.

Medium onions - 250 gms

Garlic-ginger paste - 20 gms

Cumin seeds - 1/2 tsp

Fennel seeds - 1/2 tsp

Chilly Powder - 10 gms

Coriander Powder - 10 gms

Turmeric Powder - 5 gms

Dry Mango powder (Aamchur) or lime to taste.

Salt to taste.

Oil - 20 gms

White thread (optional)
Wash and the clean brinjals.

Make 2 slits to form a deep cross. Leave the stalks intact. Put them immediately into cold salt water, this shall prevent them to turn black from inside.

Roast fennel and cumin seed together, let it cool, then crush and powder them coarsely.

Grate the onions properly.

Mix the onions with ginger-garlic paste, red chilly powder, coriander powder, turmeric powder, crushed fennel and cumin seeds with salt to taste. Also add some

aamchur

(dry mango powder) to the mixture. If no aamchur is there, then squeeze a

lime

to add a tint of sour taste. Mix it well for the filling.

Use hands and stuff the mixture into the slit of the brinjals/aubergine/eggplant/baigan. One can also tie the stuff aubergines with white thread and remove latter when cooked. (Remember not all the mixture can be stuffed. So the remaining mixture shall be used latter while frying the stuffed aubergins.)

Heat oil in a heavy pan. Non-stick pan is preferred. Now add the remaining mixture when turned golden brown add the cumin and fennel seeds powder. Let the mixture turns dark brown.

Check the salt and other spices and add accordingly. Add half cup of water. Now slide slowly the stuffed brinjals (barwa baigan) in the mixture.

Cover with remaining mixture. Simmer on low, covered till done. Stir once or twice in between carefully.

Poke with the knife at the brinjals and check they are tender to touch. Garnish it with spring onion or coriander leaves. Serve hot with chappatis, bread or with rice-dal.
NOTE:


This dish "Stuffed Aubergines - Indian Style" is dedicated to the

WBB-Feast.

Deadline for this event is July 31st, 2008. Rush and post the recipes with your picture of dish & mail to Sia. Check out for more details to

MonsoonSpice .



Hope you liked our article. Don't forget to share your view or link to us. Cheers!