Countdown Begins
~
Count 23
...Bourbon
Biscuits
spells out
the
Chocolate
the
Celebration
The two rectangular pieces of chocolate brown biscuits. The chocolate filling, the middle layer is like the glue that holds the two rectangular pieces of biscuits together. Colour wise, the biscuits are slightly lighter and the filling slightly darker. Each biscuit with ten holes arranged in five pairs on outer surface breathing. The biscuits has little sugar crystals sprinkled on the upper surface which counts as extras.
"
Yes! It is the deliciously darling the best the
Bourbon Biscuit.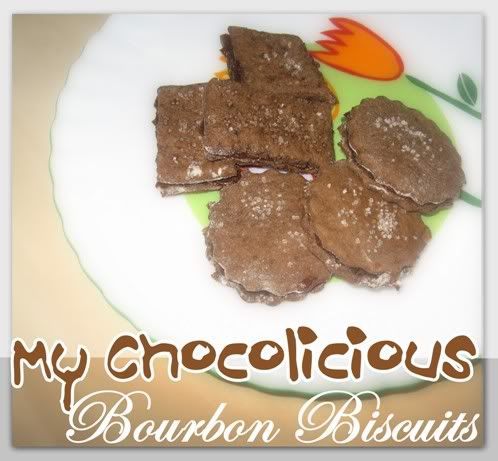 I'm too fond of only chocolate bourbon biscuit, – though I'm not sure why, exactly. Perhaps, maybe it has to do something with my body sugar that rushes whenever I eat Bourbon biscuit.

Making me feel rejuvenated in a micro second. Indeed its like having a Heaven in my mouth with every

little Bites of Bourbon Biscuits..

Yummm...!
I have been a strict regular bourbon biscuit eater ever since my childhood.
"
Perhaps perfectly proven possible way to eat Bourbon Biscuits in the deconstruction list manner that is consuming the separated layers of the biscuits and digging all the fillings inside it.
"
During my childhood, knowing my fondness for the bourbon, my dear
Paa
used to bring a whole big
tin of bourbon biscuits
. My
mom
used to ask me to eat three biscuits each day as she knew it is simply impossible to stop eating bourbon ones you start. I obeyed the instructions but as always with some
changes in the rules
. I for sure ate three biscuits as per instructions but at least four times a day. And even this is not just enough for me. I still follow the same rule for the bourbon. Ones the bourbon packet is open it has to be finished..!
But I'm more excited as I recently made my very own favorite bourbon biscuits at home. Except the process of baking, which takes less than 15minutes this one is an easiest sweet stuff to make.
My homemade bourbon biscuits taste likes the ones from the shop
. I'm sure you will enjoy making and eating it. .
Ingredients

for Bourbon Biscuits

: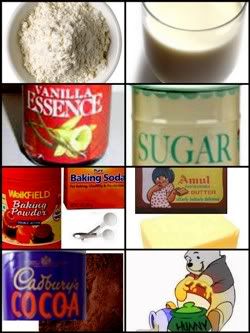 All Purpose Flour/Maida – 1 cup
Butter – ¼ cup
Sugar – 1/3 cup
Baking Soda – 1/4tsp
Baking Powder – 1 tsp
Cocoa – 3 tsp
Vanilla Essence – 2tsp
Cold milk – 3-4 tbsp
Honey – 1tsp(optional)
Ingredients
for the Filling (Butter icing):
Butter – 1/4cup
Icing Sugar – 1/3 cup
Cocoa – 1 tsp
Vanilla Essence – a few drops
Method

for making bourbon biscuit

:
Take a bowl and add the butter and sugar and beat them till light and fluffy.
Add vanilla essence, honey and Baking Soda and blend well.
Sieve the Flour with Cocoa and baking powder. Mix the Flour to the creamed mixture and form soft dough.
Now, add cold milk to this dough. Roll out the prepared dough on a board.
Cut with a biscuit cutter in shape.
Prick on top of the cut shapes with a toothpick and sprinkle sugar.
Place on a greased and floured baking tray and bake at 160C for 10-15 mins.
Cool it for 2mins before using the filling/icing.
Method
for the filling:
Mix all the filling ingredients to a smooth paste.
Sandwich the biscuits with this chocolate butter icing.

Note:
Castor Sugar is prefered in this recipe.
While rolling the prepared dough on a board use a little flour for dusting, so that the dough does not stick at the bottom.
I made rectangle shapes with the knife and other round shape with the biscuit cutter.
In the baking tray, you may also use butter-paper.
This recipe shall make around 14-16 bourbon biscuits all together.
To enhance the flavor of the filling/icing of the biscuits, you may add 1 tsp coffee essence or 1/2 tsp instant coffee dissolved in 1 tsp water.
Countdown Begins-Celebrate Life ,

COUNT~23

with the Bourbon Biscuits.