Note:


~

This prose/rhyme is in exact 250 words!

~

The drawing below is an extension of

rachi creation

, created thyself on

Paint-Brush.
Echoing through in the Dark..
Parting the stiff silence with the spark
Raffling in quiet Breeze
Rambling Thoughts just freeze;
Careless warm nights of summer;
I stare the simple Reflections in clink!
Rhythm the melancholy of Reminiscence
Ripping away rare shady avenue!
It attains a beam of golden hopes;
A theme of harmonious grace pores;
Thousands of new chorus unfolds;
The longing, I just never knew…
But I hold the strength in subdue..!
For days I have been pacing to and fro;
Endearing something common is there between me and you;
Tender, tinkle o tinkle I could mistake you for the charm in tow;
Earnest is your sound, all the way through!
Dazzles in the dull arc;
Swamp tune soar high way marks;
Slowly it strolls and revolves;
A feeling amble divine evolves!
Symbols inscription claims,
Resonance in Reverberation flames,
Colorful aura ascends the character,
Sipping swap of sweet sound patter.
Like the dewdrops dropping down the leaf,
With each and every tingling sound earth zing,
Trickle and tickle feeling spin through;
Desires for concord whispering the calm clue!
Hanging aside the purple curtain heed;
Down the brass tubes rubs and ruffles feed,
Pursue wee steeple to crack of dawn to serenade;
Sweep the stillness in bead of rhyme resonate..
While the capricious tunes wind-chime soak..
It touched my heart deep chords!
I bow my head over again to the gentle rhyme scales..
Dark dust showers the bend shimmering echo subtle;
Wind-chime in silence sure ignites the tranquility sway..!!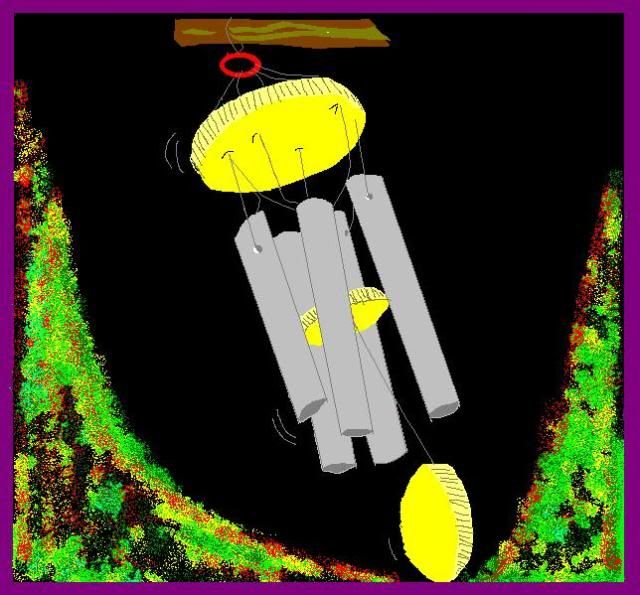 ~

my Wind-Chime got a rhyme..
to enlarge

CLICK

here