I'm back into my smoky kitchen with some spices and odd vegetables. Odd as I say because not many people like to eat okra. And no surprise;
I'm
among them.
Perhaps, when you think for the change from the routine food…odd vegetables turns up as magic in relishing the delightful tastes and aroma.
Though cooking bhindi bhaji is one of the quickest and easiest recipes, this Okra stuffed masala/spices is a bit complex recipe only for one who doesn't like to stay longer in the kitchen. But sure ones energy spends in showing the skills,
this recipe
shall make you crave for more.
The stuffed masala/spices okra is quite crunchy, crisp, spicy and a tint of tangy in touch and tastes which definitely titles your tongue with quite a distinct earthy delicacy.
~
Okra

-

History Snippet:
So as always, before getting into the making of recipe, let's start with few facts of the okra. This edible green fruit is also called
okra
,
lady's fingers
, or
gumbo
or
bhindi
(in India).
Okra have a very old history which probably originates somewhere around
Ethiopia
, and was cultivated by the ancient Egyptians by the
12th century B.C
. Its cultivation spread throughout North Africa and the Middle East.
Interestingly, the seed pods were eaten cooked, and the seeds were toasted and ground, used as a coffee substitute (and still is).
In fact, at few places the leaves of okra plant are also eaten raw in salads.
Okra came to the Caribbean and the U.S. in the
1700s
, which was probably brought
by slaves
from West Africa, and was introduced to Western Europe soon after. Today okra is popular in Africa, the Middle East, Greece, Turkey, India, the Caribbean, South America and the Southern U.S. It is not a very common vegetable in most European countries, except for Greece and parts of Turkey.
Okra forms part of several regional "signature" dishes.

Hence, these bright green, tender pods have gained a lot of respect as a vegetable almost all around the world. Moreover, okra is a good source of vitamin C and A, also B complex vitamins, iron and calcium. It is low in calories, a good source of dietary fiber, and is fat-free.
Okra bhaji is one of the common recipes that are prepared in India very frequently. Every state or family has its own way of cooking with particular ingredients. However, I prefer cooking with few ingredients yet have a rich taste. This recipe is one of them.
~
Ingredients for
Stuffed Masala/spices Okra: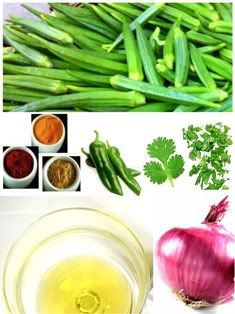 Okra/Bhindi/Lady-finger - ½ Kg or 20-25 Nos.
Onion – 1-2 (fine chopped)
Green Chilies – 2-3 (roughly chopped)
Turmeric Powder - 1 teaspoon
Red chilli powder – 1½ teaspoon
Coriander powder – 2 teaspoon
Salt - to taste (or 1 teaspoon)
Dry Mango powder – ½ teaspoon (optional)
Oil – 4-5 tsp.
~
*
Mise en place:
Mix all the dry masala/spices with the water.
The spices mixed must look like a thick paste. Keep it aside.
Now wash properly the Okra in running water. Completely dry the okra/bhindi.
Trim the bottom and top.
Make a proper slit with the knife in the okra length wise.
Then stuff the masala in the slit of okra with the help of spoon.
Now fine chop the onion and green chilies.
~
Making of
Stuffed Masala/spices Okra :
Heat the oil in a pan a big size skillet.
Now add chopped onion.
Let it turn golden brown and then add green chilies.
Stir in and soon add stuffed okra (bhindi/lady finger).
Add the left-over spices with half cup of water, so that the spice does not stick or burn to the bottom of the pan.
Cover and let it simmer on low-flame for next 15-20 minutes.
Stir in lightly in between occasionally.
Check if the okra has turned tender and golden brown.
Garnish with fresh green coriander leaves.
Serve hot with chapatti or paratha or any bread.
Note:
*

Mise en place is very important in any easy or complex cooking.
Try buying the okra which is tender and small in size. If the okra is quite long, chop in half to make it around 2-3 inches in size.
Mixing the spices/masala in the water prior making the recipe helps in enriching the flavor. Mix some extra masala/spices so that it can be added from top while cooking.
I prefer the mustard oil; you can have any vegetable oil. However, mustard oil enhances the taste. Also if mustard oil is used, heat it till smoky hot or else it will have strange pungent smell.
While the okra is being cooked, do not stir it abruptly or else the okra might break in between and turn up very messy.
Dry Mango powder is optional to use, though few drops of lemon are alternative to it. A slight sour and tangy taste boosts the savor.
Also some like to add tomato, so if you add tomato add while onion turns golden brown. Nevertheless, I prefer just elementary okra and overpowering spices!
Some also prefer to add potatoes but it just up to you how you want to have it. Though, I prefer no potatoes in this particular recipe.
Let the recipe be spicy, tangy and crunchy!
*

Mise en place:

It is process defined in French phrase,

"

everything in place

"

, as in set up. It is a step by step method of organizing and arranging the ingredients prior cooking. Where all the ingredients are kept ready to use to save time and avoid any last minute hurry or mistake made in cooking.
Follow mis-en-place religiously and see the difference!