Note:

THIS blog is decicated to

THE WORLD ENVIRONMENT DAY

.

"They are a large, funny animal, and they seem to know when they have done something dumb. They convey a sense of knowing how they fit into the world."

(J .Poole quoted in The Fate Of The Elephant

).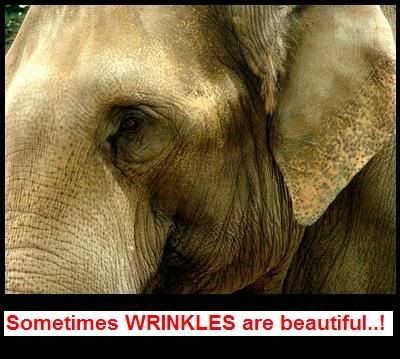 Everybody loves to play with water. So as the huge Elephants are also fond of
water
and enjoy showering by sucking water into their trunks and spraying it all over themselves. Afterwards, they pick up and spray dust in the same manner they did with water. with their trunk. Almost like the
elephant's sunscreen
the protective coating of dust. Though dirty its cute and effective. Is'nt it..!
Unique Ability:

African elephants care for wounded individuals and are unique in that they identify and look after elephant bones.

And something I cannot forget appriciating their contribution in all ways so much to the wildlife and mankind. The best example is that, as much as
80 percent
of what elephants consume is returned to the soil as barely digested highly fertile manure.
Type

: Mammal

Diet

: Herbivore

Average lifespan in the wild

: Up to 70 years

Size

: Height at the shoulder, 8.2 to 13 ft (2.5 to 4 m)

Weight

: 5,000 to 14,000 lbs (2,268 to 6,350 kg)

Group name

: Herd

Protection status

: Threatened
Remember, how
(Hrithik Roshan)
in the movie Jodha-Akbar,
Akbar
had experience powerful wrestling with elephants. This was one of the scene that I liked inspite of the special effects present. I wondered how important Elephants have been ever since the ancient times. The largest creature on earth Elephants have added a royalty, a sense of power, and strenght all past decades. The
ancient battles rules
have provided us with an interesting application of tactics to the War Elephant in an ancient games context. So many wars have been fought and won due to the large number of the elephants in the army. Elephants have been indeed a sense of pride of all eras.
My Story
, of this royal creature elephant starts long back in my childhood when I used to study in Baroda, Gujarat where for the first time I saw the elephant at the temple, which was very near to my home. The elephant was brought far away from
Ahemdabad
on truck for performing the prayer and other temple rituals. That was first time when I read the elephant so closely. Everybody gave the elephant bananas and sugar canes. The elephant was well
decorated and taken to the possession
through all the streets in the evening. On the other way, I with my friends were following the footsteps of the elephant. Trying to observe the rough dark skin of that huge animal, its thick hard long hairs on the body. We were so excited to see the elephant, that we stayed in the temple even after the prayers were offered. I believe that was the time when I felt so much for that creature and since than its my favourite animal .
Yes! I call elephant my favourite animal.
And how can I forget the wonderful times of
Baroda
, attending the Ganesh Chaturthi, where huge idols of Lord Ganesh were made.
Ganesh
, the Hindu God of wisdom, has an elephant's head.
Each year these huge idols were different looks given to the idol and this indeed amazed me.Sometimes covered with glass pieces, sometimes with glitters and sometime with small pices of colourful bangles, creativity have no boundation indeed. We waited egarly each year to see the Lord Ganesh idol of our locality with different looks.
Artists
work so hard and have such an innovative mind to create the idols everytime with different looks and yet so preety with all spirtual essence. Its an experience only to be felt living at the west edges of India, like
Gujarat
and
Maharashatra
.
Comming to north-east, in
Guwahati, Assam
the view of elephant on the streets is very common. The elephant keeper riding on the elephant come door to door to get some food and bless people.
There was also the time when I was in
New Delhi
, for my IHM industrial training. To reach on time I used to catch the early morning Bus from ITO, I wondered, from where on these busy roads of the Capital have dung of elephant. And one day when I reached before my time luckily saw the elephants shaking their hips on the road moving slowly. These elephants lived down the
ITO bridge at the shores of Yamuna river
. The picturesque from the bus was amazing to watch elephants crossing the busy roads. It was then I was almost carried away by this huge creature. I wished if I could know more about the elephants and even ride on it...well it seemed then almost a dream to fulfill some point of my life.
Completing my college in Guwahati, I came
Gwalior, Madhaya Pradesh
doing MBA at IITTM. I made many friends here, some good and some best. Among them, few friends often called me
DUMBO
. Dumbo! Dumboo..!! Ahh...I do understand things but a bit late...Got it...why my friends called me Dumbo..! Well this sometimes did hurt me. But later I stared enjoying this pet name of mine given by my friend. Dumbo, is the Disney animated cute baby elephant character. For his enormous ears, and everyone of them calls him "Dumbo". I love Dumbo! For its innocent, cute, chubby smile that can directly make others smile too, Dumbo name excited me.
Finally it was Aug.2007, when my dream to ride & to get closure to this huge habitat elephant came true.
Kerala is the destination were I saw in abundant of the elephants at the Elephant Center. I touched, hugged and holded in my arms.
I still remember the name of the elephant was
Suneeta
on which I had my life's first elephant ride. It was one of the best experience of my life. The elephant was too big and a bit difficult to sit on it, with the wide forum. It took an elegant walk and shook with each step it took creating a bubbly effect in my stomach but something which was simply worth being at such a height touching the branches of the trees. This is what I always wanted to do afterall...!
I consider myself lucky to be blesssed by Luxmi ,Her elephant at
Pondicherry
temple this April.2008. She was again a delight to watch and feed her with green grass. You can read more about her in my blog on
Pondicherry
with this link clicking.
Who says elephants are found in one color that is a grey shade? India have elephants so well decorated with rangoli colours and other accesories making the creature look beautiful. The elephants in
Rajasthan
look so much more colourful and vibrant.
Where as the elephnat in South Indis,
Kerala
looks more of auspicious looks studded. The polo on the elephants is popular in Rajasthan and nobody should miss it. Also in Kerala, elephant festival is celebrated every year.
India have been popular all around the world for its elephant safari, infac this also inspired the famous tourism company "Thomas Cook" to start the tourism in India with a big bang.

Among the most intricate and painstaking crafts of India is ivory-carving. Presently banned in the effort to preserve elephant population. And please don't ever buy Ivory. Save an elephant and make your money work for them not against them. If you travel to exotic places or even to a shopping mall near you, never buy anything that looks like ivory as it probably is. It can be fake and above all illegal.


"At present the world is losing plant and animal species at a rae between 10 to 1,000 times the natural extinction rate.." This came today in the newspaper. I am shocked as any other next Nature lover. But amazingly with this statement I was surpried to know that elephants have one more species. Bornean Pygmy elephant with are beleived to be the last survivors of Javan elephants which are extincting now.


NOTE:
Above is the picture in which Left top is the African Elephant with large ears, Left bottom is the Asian Elephant and Right side is the picture of the cute small
Pygmy elephant
.
Pygmy elephant in Sabah proven to be a new subspecies. They are smaller, tamer and more mild tempered compared with other Asian elephants and were discovered in Sabah. Following DNA tests, it has been now confirmed as a new subspecies of Borneo "Pygmy Elephants." These elephants were a distinct subspecies and had different characteristics from their cousins found on mainland Asia and Sumatra.
It is beleived that these pygmy elephants were

isolated about 300,000 years ago

from their cousins on mainland Asia and Sumatra. "During that period, these elephants became smaller with relatively larger ears, longer tails and relatively straight tusks giving them a cuter looks"

It is important to highlight the conservation of these pygmy elephants to ensure their survival. And hopefully major steps have been taken by
WWF and Panda.org
.
Do'nt cut down the forest. Its the elephant's home. Think about it!