Rajasthan
is one of the most popular travel destinations in India. It is believed that every third foreign tourist visiting India makes sure to travel Rajasthan.
Historical Monuments, Palaces, Lakes, Forts, sun, sand, colorful Turbans of man, long colorful Skirts of woman, arts and crafts, Camels, elephants, monkey, tiger, warm hospitality are the
bench mark
in the Indian Tourism and is famous world-wide. Rajasthan retains it's glory and richness of marvelous history, colourful traditions and its very own
spicy delicacies of varied cuisine
. Rajasthani meal served with
dollops
of love and ghee(clarified butter), makes a success story everywhere.
It is the; Royal Rajasthani Cuisine which has still maintained its own beauty and authenticity of the recipes over the
generations
.
Gram flour
(besan/chickpeas flour) is one of the major ingredients and is used to make many of the delicacies.
Over centuries to

titillate the palate

with Rajasthan's exotic styles of cooking recipes and dishes, there is one nourishing Besan ke gatte dish which has retained it's own unique culinary art and classic flavour.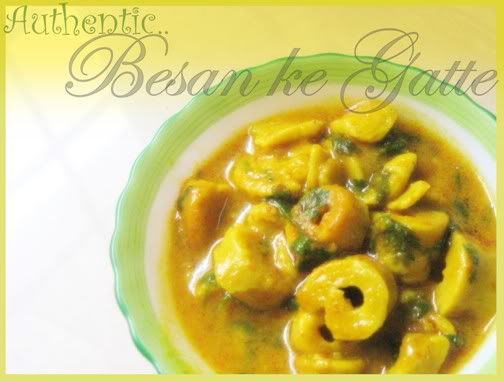 I'm glad that this recipe comes directly from

My

mother

and infact it is she who is making the dish. As she was making the dish following a certain way, I observed and realized that the recipe is

very easy

and above all only

basic species

which one can always find in an Indian Kitchen. So heres from mom, a mouth-watering, closet cooking of the

authentic Royal Rajasthani Besan ke Gatte recipe

.
Ingredients
for Gatta :
Besan (bengal gram flour) – 200 Grms/2cups
Red chilli powder – 1teaspoon
Turmeric Powder – ½ teaspoon
Hing Powder(asafoetida) – one pinch
Wheat flour – For Dusting
Salt to taste
You will also need one chop-stick.
Oil for frying gattes.
Ingredients
for Gravy :
Ghee/oil - 2 tablespoon
Red Chilli Powder- 1teaspoon
Dry Coriander powder- 1 teaspoon
Cumin Seed powder – ½ teaspoon (optional)
Hing Powder (asafoetida) - 1Pinch
Salt to Taste
Coriander leaves – to garnish
Method
to make Gatte :
In the bowl take besan(chickpeas flour), red chilli powder, turmeric powder, hing and salt.
Mix it well and now add water in the mixture to make smooth-stiff dough. Add water slowly.
Take whole dough and divide into small equal portions to make round balls.
Now dust a bit of wheat flour and roll the dough with the rolling pin.
Let the dough ball turns flat like any other roti/chapatti or Indian bread.
Now again dust a bit of wheat flour and keep the chop-stick at the corner of the flat dough rolls about 5-6 inches long.
Now start rolling around the dough and let the chopstick be in the middle.
Slowly pull the chop-stick out of the rolled dough.
Do the same process with all other dough balls.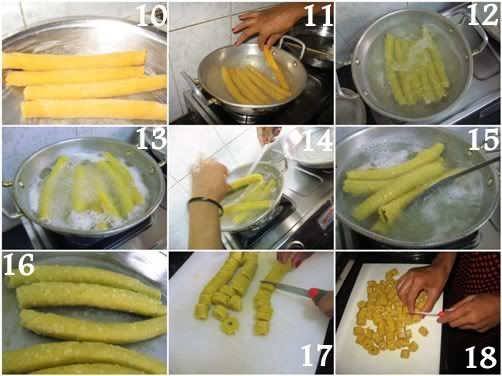 Now boil the water in the deep pan.
When the water starts boiling add all the rolled dough sticks/rolls with the hole in between.
Boil them for about 6-7 minutes.
Check one by pressing in between the fingers.
When they are perfectly done they will turn tight and quite solid/stiff/hard in texture.
After they are done, strain the gattes and keep aside to cool.
Also store the boiled water used, for latter adding in the gravy.
Then take the strained gatte sticks/rolls and cut into small pieces around 1inch in thickness using knife.
Method
of making Gravy for Gatte :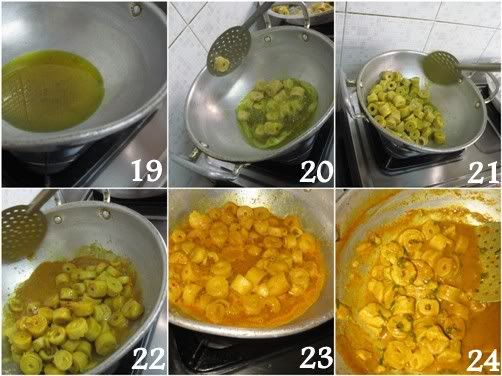 Take a small bowl and mix to make a smooth paste with water and the dry powdered spices like coriander powder, red chilli powder, salt and turmeric.
Now add ghee/oil in the pan and heat it.
Now take those small pieces of the roll of the gates and fry them until they turn a bit reddish-brown in color. Take them out on the oil soaking towel.
Now take the same pan and remove any extra oil is there.
Then add cumin seeds (jeera) in the heated oil. Also add a pinch of hing into it. ]
After few seconds add back the reddish-brown fried gates and followed by the paste of species made with water and kept aside. Keep stirring it on high flame for couple of minutes.
Now add sufficient water to the pan. Let the gattes get soaked inside the pan.
Simmer the flame and let it cook in their own juices, around 12-15 minutes. Do not stir hard now, as the gattes might break. Be gentle and stir only ones.
Later the gravy shall turn thick. Royal Besan ke Gatte ki sabji is ready.
To garnish sprinkle some fine chopped green coriander leaves before serving with bread/chapatti/paratha/puri/rice.
Note:
When (in making dough and gravy) add water, very slowly and carefully.
Some people also like adding curd to the gravy but I like it simply.
Hing powder (asafoetida), helps to enhance the flavour of the dish.
No ginger, garlic or onion is used in this recipe.
Using the chop-stick is optional to make hole in the middle of the gates. One can directly and softly roll it and then cut into small pieces. But I like the other way round as this allow the

gattes absorb gravy

verywell, making it tastes better and juicy. You will surely find a difference!
The Picture below capturing the

Rajasthan Touch is taken by

Amit Semwal

, who always incredibely captures the soul of the people with it's own very unique way to uplift the aura. Thanks! Buddy for the Picture.