~

Kindly bear this post Long one but with a Twig/Twist..! Take it as a journey with an ambition to learn, explore and innovate more...relax..open your mind doors and then start reading!
Life
is clueless, complicated yet
full of
colors
and choices
to make. I don't believe in any situation has no option or only one option…until you leave hope and surrender the circumstance. Perhaps, all have abundance of options and doors to open and
explore the new
.
This time I have come across to this post only to share my view and a very strong conviction for life
I follow
in!
There will be many moment in life when you might just end up questioning self,
"
Who I am and why I chose this job/career/relationship/material? I've completely lost sight of!!
"
~
Though
life privileged you with the choice
to make for whatever you gain or lost.
~
Yet just sometimes, being a
bit

clueless
is the
biggest

hint
can give to
triumph over
new
options
!
I have found that the options availability are many...and plenty but an adamant behavior, rigid thoughts or conventional society or family pressure results in supporting your stubborn nature.
~
Utter confusion strives to limit the options.
~
Perhaps, not every time you have to be
conventional
at your choices. Now what is
unconventional
yet willful
you choose!
We need to flexible our self a bit more and
look around the options
. We all know each person have different views and perception of certain things…yet we don't share our ideas and enhance the up built.
(
Kindly go through this post to understand different views people have for same thing:
Perception Reflection - Part Two
)
Oxygen
(
O

2
) : Oxygen gas normally is the divalent molecule
O

2
.
Some interesting facts about oxygen(
O

2
) are as follows:
All life on earth is based on 5 basic elements: sulfur, nitrogen, hydrogen, carbon, and oxygen. Amongst these, the element that is most abundant is oxygen. Oxygen makes up about 65% of the human body. It is quite evident why it is essential to keep our body oxygenated. Odorless, tasteless, and colorless, oxygen is one of the most important substances without which life would not be able to exist.
Oxygen is the sole element that has the capability of combining with practically all other elements in order to form the essential ingredients that are required for building and maintaining our body.
For instance: water is made up of oxygen and hydrogen(H

2

O) ; carbohydrates are made up of oxygen, hydrogen, and carbon; proteins are made up of oxygen, hydrogen, carbon, and nitrogen.
The list of crucial roles played by oxygen is quite endless. It is necessary for oxidization, or combustion, and also acts as a preserver, sanitizer, deodorizer, and disinfectant. Our cells are energized by oxygen, which helps them to regenerate. Oxygen regulates all the functions of the body. Our ability to talk, sleep, eat, move, feel, and think are all dependent on the energy that is generated by oxygen. Our body uses oxygen for the metabolism of food and the elimination of waste and toxins via oxidation. Oxygen is used by the brain to process information.
Real FACT:
We can go without food for a number of weeks and survive, we can even go without water for 3-7 days, but
we cannot survive
without oxygen beyond 5 minutes
. Oxygen is the third most abundant element found in the sun, and it plays a part in the carbon-nitrogen cycle, the process once thought to give the sun and stars their energy.
Though we inhale mix of gasses, our lungs filters the rich oxygen and exhale the rest of gases. And if we voluntarily stop breathing (i.e.
hold our breath
) for a long enough amount of time, we would lose consciousness, resulting lack of oxygen to supply to the vital organs of the body and a fallout with a dead brain, declaring death or suicide.
Hence, people must understand the value of
Oxygen
in our living/ existence.
I have mentioned so many essential facts about the Oxygen
O

2
, so that the people who are not from the specific science background can also learn and understand about the significance of Oxygen, perhaps the
"

Breath of Life

"
.
~

But then why are we suddenly discussing about Oxygen/Science!
Yes back to the main theory I have always believed and
propagated is philosophy of

O

PTIONS

O

PEN
(
O

2
) perhaps, the chemical formula of normal
O

xygen
.
Without the Options Open
implemented
in our life…we are dead in our plans and deceased in our happy existence.
Not that life does not offer us second door to open and explore but we often get hocked with our inflexibility and looking for only one closed door with all the odd pretensions and uncertain calculations.
Options Open (O

2

) is as important and essential as Oxygen into our life, perhaps it is the

"

Breath of Life

"

.
Life is already
clueless
, so please don't make it much
complicated
with
comparison
charts, unnecessary expectations, forceful acts and
pressures
.
~
O yes, love to quote from
3Idiots Movie
,
"
Life is not a
pressure cooker
...
"
, perhaps do not
cook
assumptions for life but let life offer you the best options open. Certainly only you are alone are cooking and diving in stress storm. Adversity is inevitable, stress is optional..!
~

Do not endure stress, fatigue, sleepless nights…nothing can be the worst…more than if you keep continue thinking of something or just nothing...A tiny

Headache

will take no time to convert into

Heart-attack

…perhaps a dying of

Thought-Attack

. So be careful!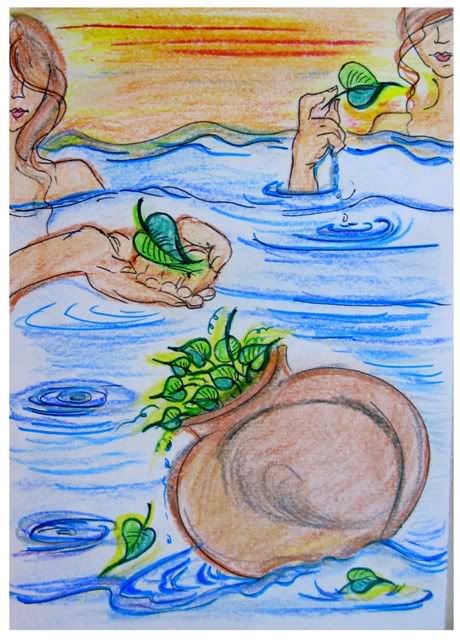 O2-ClulessLeaf

@

Rachi Creations..


CLICK here to ENLARGE
*


"

..I am breathless without you
The wind circles among the trees,
And it bangs about the new-made leaves,
For it is breathless without you..

"


(Breathless: NickCave and the Bad seeds
scroll n LISTEN BELOW.)
*
Worry for the worry is Waste.
Worry to beat the negativity.
~
Be a warrior.
Choose for the bountiful Ocean of ideas.
And
Options Open
(
O

2
) for availability to opt.
~
Breathe
Oxygen
and Clam down!
Be comfortable to the change,
As only constant is the change,
Convey your sense of Confidence.
~
No one is Culprit…do not blame either ME or Yourself,
Relax and take a break from your rehearsal and repetitive rounds,
~
Review the Options Open (
O

2
).
Collect your thoughts use your creativity and courage to choose!
Certainly Life has a lot to offer and rejoice!!
Remember: Certain things are good only when opted best in the right time, apt moment…late decisions may lead to the diluted and irrelevance of the choice made. So choose the best from the available options in a set of time. Late decisions making, looses the charm of experience. Don't be a loser, breath the Oxygen(O2) and look forward to as many Options Open quickly!
Making priority list is good…yeah I said The
Priority-List
….make and count as one, two three…just as you would like to say as plan A, plan B or if not than plan C implementation. What best or most matches your needs just select that. Array and assess opportunities,
alternate ways
,
new
prospective.
Sky is your limit!
Fly with new innovative ideas. Be a singular in the plural world! You are definitely a scientist and can discover/invent something worth and new.
Let you shape your world and existence with your own best decisions from choosing the options open from the priority list!
Yeah! The Best is what you choose and sincerely contribute in...the finest can be anything you want or wish to make. Absolutely it is

YOU

who decide and do the best and leave the rest! All your

choices are correct

. Just count one, two, three... and all.
~

Life is like a bestseller book
. Pick the book, and randomly open any page and start reading. Whatever and whenever you read will be interesting and captivating. All you need it to opt/
willing
to open the page, read and rejoice.
And someone best said,
"
If you are feeling overwhelmed with your family responsibilities, please get help if you can afford it. Find a sitter for your children, explore options for aging parents, and seek counseling for yourself. In many cases, you have options, but you need to take the time to find them.
"
Make the best use of the options available.
Let's not fuss so much about the hullabaloo Life…lets
pick options
that are distinct and yet brings merit
in our life and also
create
a distill difference into other's life too.
~
Indeed, Life is a
collection of moments
and
choosing from the options-open
(
O

2
),
gives the life a momentum
!
Though philosophies can be only words sometimes..but one cannot ignore the importance of choosing from what life offers to you and what you give back to Life and people around ..and round, Life Cycle / Cirle...Earth..remember..huhh :) Go have a ride on your thoughts!
~

Speak

your mind and Share your thought perhaps Ship your Idea!
I did mine..how about You..!!
~
Hope reading this post you have somewhat
edifies your Life circle
.
~
Phew..inhale..exhale..relax!
Note:)
This is the Green Post.

TREES

give Oxygen(O

2

) so do plant more!
The drawing above is the made by

thyself

as a extention of

'

Rachi Creations..

'
I really have to say heartily thanks to five people for this post.
Tavish, whose feeling/post of "the fear of lose" propelled me to post this post as quickly as possible.
Mahesh, from whom I learnt the twist/

twig of Green

and dedicating the post/blog as Green contributing our bit to environment.
Mitul, for explaining me so well the concept of "Born to Ship", that is just conquer and share or Ship the perfect or imperfect idea or thought spontaneously with others.
Nupur, my college's ex roomie...as together WE discovered (Options Open)

O

2

concept to cope up with studies and issues:)
And HUBBY...for making lovely magie :):)
While I'm busy in dotting the discovery of O

2

and am also breathless..so please plant more

Trees

:)
Let the video fully loads..enjoy! Breathless by Nick Caves and Bad Seed's very inspiring song!
...exhale...

Keep the spark Alive..

inhale..
O

2

...Relax..