~

Below is the personal love letter for the person who is the most

generous, genuine and giving

in nature. Here,

I dedicate this one post

of the blog for the person whose

personal pleasures

,

time

and

energy of life

had been

devoted for me

. Kindly

spare your ten minutes

in reading this letter which is really

worth

!
Born Bond~

(C)~

Geetali Pradhan
~
"
Youth fades, love droops, the leaves of friendship fall;
a Mother's secret hope outlives them all
." ~
Oliver Wendell Holmes
Dearest Mommy!
~
When I was in your womb,
enjoying indirectly the
curd
and
tomato salad
you ate, I knew
I was coming to be in a healthy family
. I was definitely blessed!
You brought me to this earth
with so much of pain yet
made my life simply painless
.
~
When I was six months old,
you liked dressing me
in a nice bright pink frill frock with matching socks and shoes.
You made me look like an angel
. Perhaps the only time I looked so cute and a true angel.
~
When I was three years old,
you feed me with your own hands
the rajma-chawal with lots of ghee into it. I was developing my tastes to the
wondrous food
you made. You made me surprised every time to make food with
same
taste, flavors and aroma. Perhaps with
love you make and serve the food
is beyond the doubt
so incredibly delicious and divine just like you are
!
~
When I was five,
I had my few choices in food and made faces when you cooked
green vegetables
. But you made sure I ate them
to get all the needed vitamins
.
Perhaps, then I learnt you
were a typical dedicated mother
who can run with the bowl of rice behind the kid for hours and still not feel tired.
~
When I was six,
I didn't like to get up in the morning and moreover didn't like going school. I used to roll into my bed under the bed cover.
But then you used to come to me inside the bed cover,
hugged me, cuddled and played with me
for next five minutes. Latter slowly whispered into my ears to get up as you had packed
my favorite sandwich
into the Tiffin-box. And guess what I used to get up soon. Indeed, mom
you were elegantly too smart and knew me so well
.
~
When I was seven,
I participated in the running race in the school sport day event. You came to cheer me but
I could not make it that hundred meters race
. I was sad and very upset.
But then you said that
"
same race-concept applies to life
too. Don't you get despair and get carried away in the failure. Though
coming last in race you made it last longer as you ran so well till end
. You are true sportsman and so live up that spirit.
"
Perhaps only than I understood, the participation was more important and just winning. And there
I learnt my first basic lesson of the life
taught my mom!
~
When I was nine
and going to school, you came to pick me up. I remember you talking to my class-teacher. I was so scared if teacher told you about my mischief in the classroom and you might just scold me latter. Though you knew,
I was a kid and a naughty one too
;
you took patience to explain me
the things that embarrassed you to hear about me. I remember that day when I became class-monitor and
you
were so happy to see me lead!
Perhaps
you explanation drives me to my best of the expectation
.
~
When I was ten,
I enjoyed playing with my friends' everyday after returning from the school. One day when a boy (my classmate) teased me, I came running to you and
you willingly supported me
and readily scolded the boy for making me sad. Perhaps latter
you did explain me with good grace that fighting and patching up with friends is the part of good friendship
.
Ever since than you became my best friend.
~
When I was twelve,
I was asked by you to participate in all the cultural activities in the school. You made all the efforts to help and
guide me
for those programs.You wanted me to look the best in the group. Hence you persistently made some extra effort by coming with me to the shop to buy all the craft works and the dress needed in the program. I realized,
you were my best cheerleader
and wanted me to understand the core behind the perfection. Indeed,
I realized then that each minute of perfection was worth the effort you made
, when I won the first prize in the poem recitation.
~
When I was fifteen,
I was studying in the room during weekend. You came with the (besan)
chickpeas flour paste mixed with honey
. You dipped your palms in the paste and rubbed gently on my face. I wondered why!
The next bizarre day you came with the
curd and cream
then rubbed on my head even each hair strands.
Mom, I knew well that
I was your sweetheart darling daughter
, but you turned me into
sweet darling dessert
with missing red cheery on my head :P
Till then I used to drink glass of milk twice a day to get proper nutrition but since you thought I was a dessert, you made me apply raw milk on my face too every morning, to get instant glow. Phew!
You called me into the kitchen to teach me how to
make dough
; I thought you must be kidding though.
You wanted me to learn many more household things. However never took my help and did your things sincerely. Conceivably I was then just fifteen.
Looking at you
I understood the
basic ethics of being a mom of the daughter child
.
~
When I was seventeen,
you took me to the
shopping
. We
had lots of fun
and ate ice cream.
I found your negotiating skills
while buying things in the market. No shop keeper could fool you around. You were tough yet charming
with your apt market price analysis
. In market you never compromised. Though you comprised and
settled for the best
.
Finally you bought me few salwar-suits and told me that this suits me the best. I hated this very thought of yours, though
I understood the apt concern behind your act
.
Eureka! I was growing up!
Perhaps, I understood,
being a mom/woman is not easy living
with.. so many
quick correct decisions
making, further
responsibilities
and
constraint
constantly rushing into mind.
~
When I was eighteen,
you shared your biggest crush story and asked mine. I had my long list of people and you had only one to still sublime. Astonishingly, I discovered your crush was
Amitabh Bachchan
!(Click Here) Gimme a break mom!
When it rained you dragged me outside in the rain, we together felt breeze and
together enjoyed each raindrop
on our skin. I knew then that
you were not just my mom, my best friend
but also
you were as joyous as being a virtual sister of mine
.
~
When I was twenty two,
I was going for higher studies and moved to the hostel life.
You knew I would feel hungry
at mid-night so you prepared so many snacks, wrapped safely and kept without my knowledge into my bag. You hugged me and only said take care!
You missed me badly but never showed.
You pretended to be strong hearted, though you are very soft and sensitive at core.
I know mummy,
you have been more geared to understand and focused in making best choices
to our personal lives. Hence
you have ability to make hard calls when needed yet balance to uphold
.
Till now,
~YOU always bought things I LIKED,
~ cooked the food I LIKED,
~ watched the television serial I LIKED and
~ YOU even wore the dress on occasions that I LIKED
~ You devoted all you choices to me. And only a Mothers' could do so.
~
You made coffees and milk shakes at odd times for making me to study little more a while.
"
Concentrate to study and don't you sleep on books, Girl!
"
You said to uplift my mood!
And
we together giggled
.
~
Somehow,
you always had strong instincts
to know what was behind the
closed doors
and
blocked thoughts
:)
~

You prepared snacks and tit-bits for my friends
when invited at home.
You welcomed and treated them with the
same sweet love and hub of warmth
.
You are a true natural nurturant
. And
ability to connect with everyone
comes with ease.
Compassionate thought without compare has been your natural traits.
~
When I was giving
my exams of studies or personal life
, you were the one who was constantly praying for me. I know
you prayed God to pass me
with good results and
you also prayed to pass all my worries and troubles to you
. I came out with glorious rainbow colors and
all praise goes to you and only You!
~
The green leafy vegetables you cooked that I hated the most in my childhood, today staying far
~
when I am twenty six

,
I tend to ask the same recipes on phone everyday. I often miss the
chicken curry
you prepared every Sundays.
Though I call it being stylish but
miss the oil in my head
that you added and massaged to relax me so well. You
brush away the tangles
from my hair,
yet
also the tangles of my life!
I love your care, composure, your completeness.
The strength, the power the dignity you reflect.
Your hand's tenderness in warmth is paramount.
The character you have shown..
...in you moves is mounting at infinite.
I'm proud to owe you, Mom!
Your humble voice makes my pain vanish,
The choices you make,
Decisions you take,
And the courage you bear!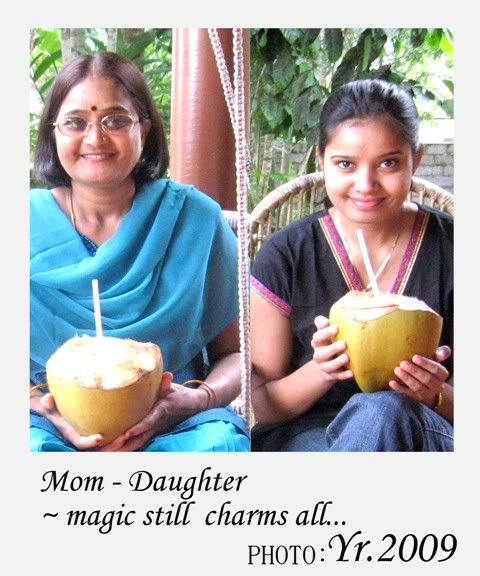 I love when
you smile
and
cook.
I love the
way you look
.
For the long journey made in the time travel,
Take
me into your arms
and let me sleep sound.
Let me be a kid for the moment again
sitting in your lap
;
Let the ticking time stops right there,
You believe in me beyond horizon
.
You're compassionate being passionate.
You sight off my imperfections.
To teach ME the best
has been
your only ultimate mission
!
For me you are multiple skill sets, handling tasks with perfections. You have managed the time, resources, money, emotions, relationships and ME so well.
You are the
best chef
,
best nutritionist
,
best beautician
,
best cheerleader
,
best teacher
,
best Human Resource Manager
(
...perhaps how can we ignore,
the charm you carry
in the way,
you challenge Paa
to run at your commands
!
)
Indeed,
YOU been the best mom
and perhaps the
best woman
, ever have
influenced
ME so much and yet
I am competing to be the Best like you
!
Love you so much for everything!
~
I'm so glad that I share my DNA with You :)
Your loving Daughter;
Umi :)
Note:
Dear readers, please welcome

Geetali Pradhan

, my childhood and school days friend, who made this lovely ecstatic pencil sketch. She is a sterling friend and perfect daughter. This sketch is her personal life based sketch featuring her loving mom and herself as a child into it. A heartily thanks to you Geetali, for letting me use your exultant sketch in this post making it look so ideal.
Kindly do not copy the picture without permission!
Also I have added above two photos, one photo is of year 1999 and other photo is of year 2009 when my mom came here to meet me! Yep! Exactly 10years in fact 26 years with the rocking bond!
Perhaps today, 15th March,2010 we will celebrate her 50th HappyBirthday as Golden jubilee of her life! Happy Birthday Mom!!