Dearest Mommy;
~

I know, Life is cruel, unrepentant, conditional and over conventional!

Perhaps, how can a little breath in my tiny chest hold and handle the untold colossal concerns.
I molded your finger lightly in my hands
and
got strength
.
Holding things lightly instead of clutching them tightly is what you teach me again and again.
While with your unconditional open hand gives me an ability to give and receive freely. I lose the nature to stiff and gathered strong-suits.
~
Though with your significant presence, your salient gestures, soft touch, a smell so familiar, a forte of substantial tastes you create, I can never be tired of holding on you and your loveable clench.
Indeed,
the miracle I seek is at your fingertips.
There have been the
conditions of my life
and yet so blessed to have
unconditional Love of life from you
.
~

You first created me
in your womb and then
recreated the series of miracles for me in everyday and daily
routine.
At first you held me first steps and seized me so close…though you still holding me tight yet
helped me to fly high.
"
Indeed I was a caterpillar sacred to see the world was weird, you gave me
beautiful
colorful wings to fly and adore the
journey of life
…
"
Without your presence and support I wouldn't have blossom the way I have. You are the spark..so be my radiance and my charm
:)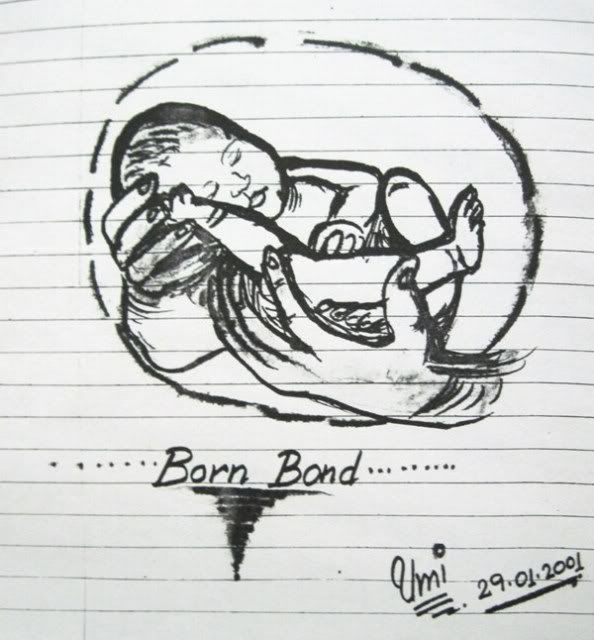 ~ Mom and me

-

Born Bond ~


to enlarge CLICK here
Now when
I could walk all fine
in every path and chosen line, I sometimes wished to
run away
. Run and
shun away
from the tension, worries and uncertainties of life.
Then one day I read that there are two kinds of behavior of nature in human beings. It's like; there is a huge difference between being
worry-warrior
and worry-warts.
-Worry-warts are the people who are inclined to worry unduly.
~
However, worry-warriors are
one who fights against worries
. They
find solutions
to very troubles. Some people are born worry-warriors.
Mommy, you are one of them.
There is no single anxious moment of mine not shared with my mom.
I share
as I get the best advice with many alternative ways and tips to tackle the pain. You love me with a genuine concern, are able to sense that something is wrong without being told. You work as a warrior. Fight against all odds and my humming thoughts. Yes! Only you can and you do it at your best!
~
Perhaps, moms'! At her best defending, promoting and protecting her child.
Even when you are not able to give me a solution…you offer a
silent-prayer
, which works all the time.
~
God listens to you very carefully and fulfills your wishes. After all, it is believed that
'
God could not be everywhere and therefore He made mothers
'
. Perhaps, He made mothers as His own replica and an extension of the
sanctimonious soul
.
Sometimes the issues are so incalculable that it might confine me, dull my senses, numbing me, bobbling my thoughts, a feeling to sink into vulnerability or just run away...
Yes! True, I prefer to run away...to seek you!
I claim you
, mom to confide the truth. The
confidence in your eyes
does then,
reflects in me
as an aid to alleviate. And I soon recover my amity and discover the harmony. I like you say
"
Don't hurry and don't worry!
"
Perhaps, there is no particular
best time
to tell you things and issues. The best time is wherever is,
'
Now
'
.
And as we
share together
the good and the bad, the hopes and the dreams, the charming moments and the acute times, we are celebrating life. It is being together to result in doing the right things,
making them momentous.
It is doing things together, yet
leaving room for each to grow as an individual
, respecting the decisions we indulge in taking. It is so amazing to see how you give me freedom to commit the mistakes and also give space to correct them.You have always trusted me more than anyone else. Your praises are far more than a criticism or reprimand.
You stand beside me to conquer my fears, stand for me to hold my hand to boost courage to try-again!
Indeed YOU contribute the
whole in me
!
~
Happy Mother's day.
Hope this letter brought bliss to you. Perhaps, it's my way to return the radiance you have been giving me years round.
~
Love you so much for everything!
~
Salute to Womanhood!
Your loving Daughter;
Umi
~
NOTE:

This post is completed with dot.748 words as suggested. Thanks to BlogAdda and PringOO, for conducting 'Write a Tribute to your Mom' contest on Mother's day,2010.
...I'm so glad that
l share my
DNA
This post is also an extension of my love-letter dedicated to my mom on her 50th HappyBirthday as Golden jubilee of her life, "Mom and Me - Born Bond".(click here)
The above drawing "

Born Bond

" above is made by me long back in

Yr.2001

in my persoanl Journal, while studing in school.
Wishing everyone A Happy Mother's Day!
~ Keep the Spark ALive..~