This post is connected to the previous post of this Blog, "

Escape

"! Kindly read that post before reading ahead. Perhaps, this post is based on

the true story

though the identity of the persons are hidden for personal reasons!
~

An encounter never escaped and echoed rest of Life..
W
inter
vacation was over; but the winter mist was still enveloping the environment. I reached back my loving Institute and my adorable Room in hostel. I love winters for it pack me in the folds of
woolen
clothes and
warm
coffee
or ginger tea surrounds the urge of
warm
moments
.
~
I was unpacking my luggage and taking out the sweets which my mom packed for my friends. Soon a knock at the door and I found my ever green bubby sweet cheering friend popping her head inside the room. May be the sugary scent of the sweets pulled her here in the room. And sure I was lucky to see that she brought some Maggie and a cup of coffee for me.
We hugged and soon settled on the bed with the sweets box to share our vacation stories. I told her all, about my old school and college friends I meet and what a wonderful fun I had during this vacation.
"
I have something to tell you…not just because I want to share my vacation story but because I want you to be aware of certain things that exist in this world…
which come into your life unwillingly!
"
, she said.
I got puzzled just like the cooked Maggie noodles tangles, wondered what made her say so…moreover, my dear chirpy friend is never so serious…but this time there is something definitely killing her and I wanted to know it all.
As she started telling me about the incident, I was totally confused to figure out the issue, I sipped some coffee gave attention..!
~
She told me that this vacation she went to her old graduation college to get some important documents…
[
As she was narrating the story, I had no clues what she actually wanted to tell…just like you Readers have no idea what this story is up to! But trust me it is an important subject here so I want you to
read it patiently
.
]
A
s
she went to the college Head Department office to collect her left-over college's important documents she was welcomed by the staff and the Head of the department.
~
They were happy to see how she have enrolled into higher studies and doing really well.
She went to the Department Head office and greeted the Head. She was asked to sit and wait as the Head was talking to some other person. She waited almost for 20-25 minutes and latter when the Head was free he chatted with her. He said that the certificates were almost ready yet needs some time to finish some pending manuscript of the office-work. She told him that she could wait for sometime after all it was really very important to collect the certificates. The Head told her that he was really very proud of her potential and credibility. He then asked her about different subjects she study and her professional aims. With full confidence she replied to all the questions. They had very healthy discussions over certain issues prevailing in the society. It was a good talk and sharing of views between a
Gen-next aspiring girl
and
an old mature experienced responsible person
. He also told her that next time when she hangs over the city with her other friends, can directly hop into his office, as they got good guesthouse and can lend to his favorite students. She
perceived
that
he cared to talk with so much of simplicity
and not pretend to be the Head and behave administrative.
It was almost an hour and more, waiting for the certificates. She looked her watch every 10 minutes but all documentation took quite a while. Interestingly, a prior appointment was taken to collect the papers but nothing happened on time. She preferred waiting more, than to again and again come to the office. Perhaps, she had no option but to wait as coming from a long distance she definitely needed all the documents this time for submitting to her new college. The Head in the mean while noticed that she was looking at her watch every 10 minutes, so he consoled her saying, "It will be done soon…don't worry!"
~
He was concern, and that made her comfortable.
Finally a staff person came with the certificates and handed over the Head. The Head checked the papers and allowed the staff person to leave as it was getting late for him too. It was the office closing time. The Head asked her, where was her home. She replied that her home was quite a far and need to leave soon to catch the bus. The Head said that he was going the same route and can leave her on the way.
~
She hesitated to go
with him but then could not resist the insisting tone of the Head. The head got up, and hugged her saying that he is truly proud of her. She
got confused
but then thought it was
a nice caring affectionate parental hug
and any ugly thought must not be hamper the aura. The Head handed over her a huge pile of papers to carry as they moved. All the
staff-members greeted him
and
the guard on the gate saluted him
. He had a big car. And as he settled in the car, opened the front door to let her in.
As they moved on, they again started chatting over many subjects and issues. Suddenly on the traffic light signal, the Head asked her, "What do you think about the Sex-Education in School?"
~
Being quite
a liberate girl
replied the answer and also gave few additional ideas to improve education in the school and basic level. The Head, was very much impressed. He liked the ideas and enthusiastic behavior.
~
Everything was fine and rolling. Soon the mobile rang, and he parked the car in the side, "I'm driving, will reach home soon..!" he said.
In the mean while, she told him that
coming so far was enough
, she can get the bus from there so he can stop. But the Head said that he was supposed to go the same route, hence he can drop her little further too.
~
Between they definitely had a good conversation and dialogue over varied topics. She had a very good impression of the a
fatherly aged
the Head and found wonderful to see that with so much of effortlessness he could talk to Gen-next kids.
~
She also felt humbled to see how promptly he agreed to give her a lift.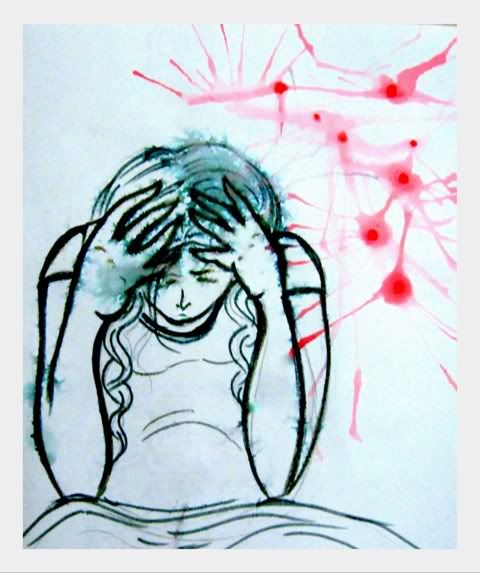 ~ some Escapes Echo whole Life ~
Escape (c) rachi creations..
-to enlarge CLICK here-
S
uddenly
, he asked her to keep her hand on his thigh. She got shocked and astound. Wondered, if she heard was all that. Before she could grasp his weird words, he took her hand and kept her hands on his thighs while still driving. She abruptly took her hand off. Still puzzled to understand what was happening around. She told him firmly, that she
needs to get down right here
.
He maintains the calmness
and said, "Don't be sacred..." She asked her certificates and somehow he handed over. She hastily got down the car. She took the documents grip tight on her chest and started to walk blankly. She did not stop or turned back to look. Incidentally, there was no one around on the streets. Scared and tensed, she got into a lane and then into a café watching people. She waited there for next 15minutes and found that the car had gone,
he had gone
…perhaps!
~
In the mean while she grasped her breath back but the
escape was yet to capture
.
~
She could not forget the encounter of such
ugly turn of her life
. In a way she escaped the place but the incident echoed her head so badly.
..sometimes you
Escape
places, people, moments but
you cannot
Escape
the
Echo
Thoughts...
As she was narrating all that, she started crying loudly. It felt as if she still could feel the fear around. Something that she did escaped but not completely. I hugged her and tried making her calm. Gave her a glass of water to drink but will that help her, I wondered!
I could not believe that this happened with one of my very close friend, who is such a sweet elegant and
confident girl
.
~
I have heard and read in magazines
such ugly face-off stories but
never thought
someday I shall see it here happening with my closest buddy.
F
ew
days latter,
I was sitting with other friend
and I recounted the whole story without disclosing the name and pretended to have read in a magazine. It was strange as my friend abruptly at the end of the story
blamed the girl for being friendly
with people.
~
But the Head was not an unknown or stranger to her, I said defending the girl.
~
At this he said "
No-excuse
, it is the girl to be blamed at the end of any muddy murky strike. Call it a irony or the truth of the reality. She should have been more careful and protective and must have gone with some family person…" I wondered how far it was possible, "Tomorrow when you work outside and do come job…how you will expect to have a family person shielding you all the time!"
N
ext
day, when our new session started our first class was of
"Business Ethics".
The guest lecturer came from one of the most elite Management Schools! He at the end of the session kept the Question-round to clear all the doubts about the subject on ethics to be followed in the business and professional life.
~
I got up and requested him to allow me to narrate the whole "Escape story" in the class and then know the concern and major opinion. I choose not disclose the true identity of my friend and let the story take up its own coarse.
Latter, I asked my esteem learned teacher, that what one has to do when got into such
punch of life
. I wanted to know in terms of the professional logic.
~
To this he replied in a very responsible-sensible manner to the issue while adding of
ten bullet
points as follows:
Such incident or similar shall take place everywhere you lead in the professional life or in your daily routines. Perhaps, you cannot avoid them completely yet abide them from taking your tough course.
Your friend is truly blessed so ask her to thank God for the blessings. She is truly lucky to have escaped such encounter but not everyone is so lucky... Some get honey-trapped through different means and don't know how to say strongly "

NO

".
Bounce-back from such ugly moments is important and Time is the biggest healer to hideous stumbles of life.
Nothing can be done to that irresponsible fellow behavior, as such people mostly depict a happy and respected image in society and office, and hence no one shall believe such deeds are done by him.
Only a strict serious sting operation can actually trap him, if he has been treating the same others too.
Moreover he being on a powerful position may also make him misuse his power and back-slash you. So forget taking any revenge or rebellious attitude!
And most important,

Never Surrender

at any point

and use your presence of mind quickly.
Men and women both need to pay attention, it can happen to anyone regardless of gender, age, base or decent profile!
However, not to forget, not everyone is same…there exist such ugly bunch of people and there are some truly genuine people too, hence don't make a preset notion for everyone and suffer in fearful anguish, destroying your own path.
Awareness is important, so spread and be alert.

~

There is no way you can elope, the hurdles or escape the encounters but choose to move fiercely to capture life knocking all the hurdles!
~
Hope you learnt something from this narration. If you got some additional point to support the situation/story, then do write and
share
with us all. Kindly share this story with all to spread awareness.
NOTE:
This is not an hypothetical story...it is the true story based on one of my friend!
The above drawing is an extension of Rachi Creations..
If you have still not read the previous post connected to this post, then check through this link: Escape.