Note:

55 Fictions is precise form of micro-fiction that refers to the works of fiction limited to a maximum of fifty-five words.

This 55 fiction present below is an effort to pay some
respect
, love, support and care to the people who definitely deserve it.
She chuckled,
"
I am living,
I want to live,
and
I might even live
longer than you.
"
Her lively poise reflected.
Unfortunately, her charisma is not witnessed by her parents,
she

lost them
in her childhood.
With
care and support
she evolved
as
true

transformation
of
power from pain
.
Nevertheless,
she battles fiercely with
AIDS
.
~Red Ribbon © rachi creations..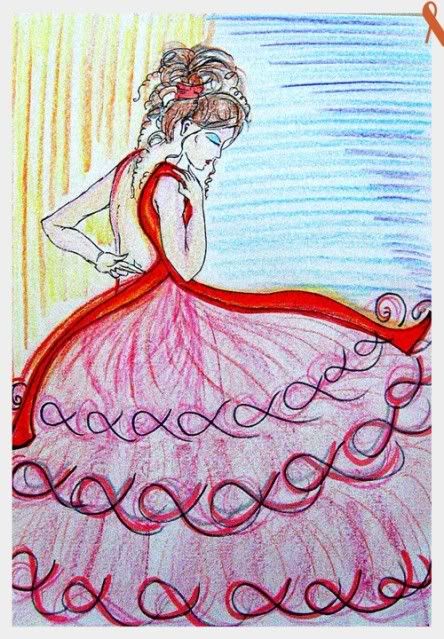 ~ ||
Right Here and Right Now

-

Lets Battle against AIDS
||~
RED-RIBBON

is the symbol of solidarity of people living with

HIV/AIDS
AIDS
stands for :
A
cquired
I
mmune
D
eficiency
S
yndrome
AIDS is a medical condition where a person is diagnosed with AIDS when their immune system is too weak for him to fight off infections.
Difference between HIV and AIDS:


~ HIV is a virus that attacks the body's immune system - the body's defense against diseases. If left untreated, HIV eventually weakens the immune system so much that the person falls sick with infections known as opportunistic infections.
~ The most serious of these opportunistic infections are called AIDS defining illnesses. When the person becomes ill with one of the AIDS defining illnesses, she/he is said to have Acquired Immunodeficiency Syndrome (AIDS).

Some

facts

about HIV infection:

Here are some very basic facts about HIV infection to remember
HIV can be passed on through infected blood, semen, vaginal fluids or breast milk.
The virus is transmitted by sexual contact with an infected person.
The virus is transmitted by using infected syringes and needles and is also transmitted through infected blood and blood products.
You cannot be infected with the virus through casual contact like shaking hands.
People suffering with any sexually transmitted disease/s are more susceptible to contract the virus.
Symptoms may or may not appear within 3 - 6 months or could only appear later and could take a decade or more to manifest. This is what makes management of Aids difficult, since the incubation time of symptoms vary from person to person and also depends on the general health and immune system of the person.
Affected people can presently not be cured, yet many treatments are available to assist the infected person's immune system.
Condoms are not a perfect barrier or a 100% guarantee, yet they do offer some form of protection, and it is generally held that it is best to use a condom.
At this time, there is no cure or vaccination that can prevent or cure HIV infection, though a lot of research is being done for a vaccine. Nevertheless, timely diagnoses and treatment can keep the virus under control and the immune system healthy.
People on HIV treatment can live a healthy, active life, although they may experience side effects from the treatment.

World AIDS Day
, is observed
December 1 each year
, not as a celebration but as a sincere dedication to raise awareness of the AIDS pandemic caused by the spread of HIV infection.
World AIDS Day was first conceived in August
1987
by James W. Bunn and Thomas Netter, two public information officers for the Global Programme on AIDS at the World Health Organization in Geneva, Switzerland. They took their idea to
Dr. Jonathan Mann
, Director of the Global Programme on AIDS (now known as UNAIDS). Dr. Mann liked the concept, approved it, and agreed with the recommendation that the first observance of World AIDS Day should be
1 December, 1988
. In
2004
, the World AIDS Campaign became an independent organization.
Each year's World AIDS Day theme is chosen by the World AIDS Campaign's Global Steering Committee after extensive consultation with people, organizations and government agencies involved in the prevention and treatment of HIV/AIDS. For each World AIDS Day from
2005 through 2010
, the theme will be "
Stop AIDS. Keep the Promise
." with a yearly sub-theme.
AIDS 2010 Theme :

Rights Here, Right Now
It emphasises
protecting and promoting human rights
. Also emphasises all to incorporate in this urgent demand for
action promoting
human rights. Rights Here, Right Now is a call for leadership, accountability and action. It also underscores this critical moment in time for the global epidemic – with the 2010 deadline that world leaders set for providing universal access to HIV prevention, treatment, care and support on the immediate horizon, right Here, right Now!
..wear a

R

ed

ribbon

as a

symbol

of your

support

for everyone affected by HIV and to

raise awareness

...
Find out facts about HIV and
talk
to your friends, family and colleagues about HIV- make sure they know the reality, not the myths.
Know your HIV status:
get tested
if you have put yourself at risk. Talk to all new sexual partners about using condoms.
Using a condom
during sex is the best way to protect yourself and your partner from HIV and other sexually transmitted infections.
If someone tells you they are HIV positive,
treat them with

respect

and don't tell others without their agreement.
Understand,

the HIV infected people are living with two pains simultaneously. One a pain of the disease and other of the disrespect or discrimination been done. Both are absolutely wrong gesture simply not acceptable.

Try raising voice

against such behaviors towards affected people. Contribute in sharing the thought and spreading the awareness about HIV/AIDS.

Note:
Today flagged off the AIDS awareness train that take more information about the disease to 10,000 villages in 141 districts across the country and will also provide on-board counselling. The
Red Ribbon Express
will halt at 152 stations in high prevalence areas and disseminate information about the disease among the masses and try to unite people by dispelling existing misconceptions during its year-long journey[
...
]
The painting above is made by thyself

(c)

rachi creations..