Note: 55 Fictions is precise form of micro-fiction that refers to the works of fiction limited to a maximum of fifty-five words.
It's an attempt to focus light on a survival story of a young girl and her hardships that turn into her power which made her much stronger finally!
~ survivor unveils ~
Stabbed
at chest,
Nail
marks on neck,
Eyes cold, red blue
crumple,
Fear swallows, Tears
elopes
,
She
locked herself
into the room,
And called the
rescue center
immediately!
This is how she saved herself from the
violent wild
Wolf
,
Crunch, the wolf was
her
legally companion
,
A
black-belt
earned girl
unveils
in an
inspiring interview
!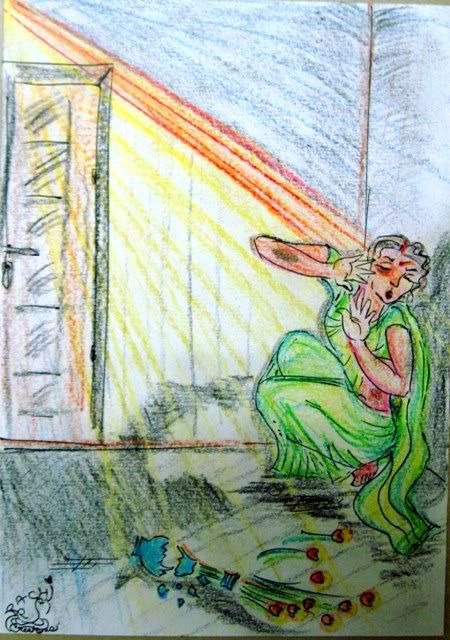 Domestic Violence

(c)

Rachi Creations..


To Enlarge

CLICK

here
~
Sadly the domestic violence is a reality and still prevails in India and all over the world. Domestic violence is far more than the just bruises and wounds on body; it is
an irreversible scar
on the mind and soul.
DOMESTIC VIOLENCE
definition:
"Acts of

physical violence

by the husband against his wife include: pushing, shaking, throwing something at her, slapping, arm twisting, hair pulling, punching, kicking, dragging, beating, trying to choke or burn her on purpose, and threatening her or attacking her with a weapon. Acts of sexual violence by the husband include physically forcing the wife against her will to have sex or perform other sexual acts that she did not want to perform...

"
"Acts of emotional violence by the husband against the wife include: saying or doing something to humiliate her in front of others, threatening to hurt or harm her or someone close to her, or insulting her or making her feel bad about herself."
The cycle of domestic violence is

repeated across generations

. Women whose mothers were beaten by their fathers are twice as likely to experience violence as women whose mothers were not beaten by their fathers: 60 percent, compared with 30 percent.

(Ref. Report

*

)

~

Perhaps, how to deal in such adverse condition is something that is learnt from the family life-style.

Most Women Do Not Seek Help When They Are Abused.

Only one in four abused women have ever

sought help

to try to end the violence they have experienced.

~

Two out of three women have not only ever sought help, but have also never told anyone about the violence. (ref.Report

*

)

Spousal violence is lower among couples in which husbands and wives have

both been to school

and are equally educated (23 percent) than among couples where the husband has more education than the wife (36 percent).

~

Perhaps

EDUCATION

is the answer to most of the problems. To respect the humankind in the right manner must be taught in the school and family. Any kind of violence must not be acceptable or promoted in any condition or crises.

Only

one percent

of married women have ever initiated violence against their husband.

~

Point to be noted!

IRONY:

Majority of

Women

and Men Say That a Husband Is Justified in Beating His Wife

~ More than half of women (54 percent) and men (51 percent) agree that it is

justifiable

for a husband to beat his wife under some circumstances.

(ref. Report

*

)

No! not in any case

man or woman

, need to tolerate the violence or any kind of abuse.

Maltreatment is against human-kind! SO

let's raise voice

against it.

Support

the one who need help before jumping on the conclusions.
How long we will keep mum and blame the society! Just like Charity starts at home…this revolution to say NO against any cruelty or harassment must get propagated from the own family. No more blaming games or any silly excuse.
...abolishing
domestic violence is an
evolution
to a revolution
of The
Change..
L
et
you
or any of your known family people not be a victim. Let's
educate
and learn from the past decades generation's
mistakes
which were committed under the
veil
of culture and tradition.
Lets woo and take
a promise
,
"
I, yes

!

I will take a stand
"

, no matter what!
~
Stop treating the woman as the
flower vase
…when you like the vase you keep
decorate
it with flowers and
keep at the corner
and when you get bore you don't care and
throw to break
it.
Note:
The above drawing is an extension to

RACHI CREATIONS

.. created by thyself with basic crayons colors.
(ref. Report

*

) ~Kindly check the link to see more statistics on Domestic Violence.
I support the Campaign

"

BELL BAJAO - Bring Domestic Violence to a HALT"