Note:

77

Fictions is precise form of micro-fiction that refers to the works of fiction limited to a maximum of seventy-seven words.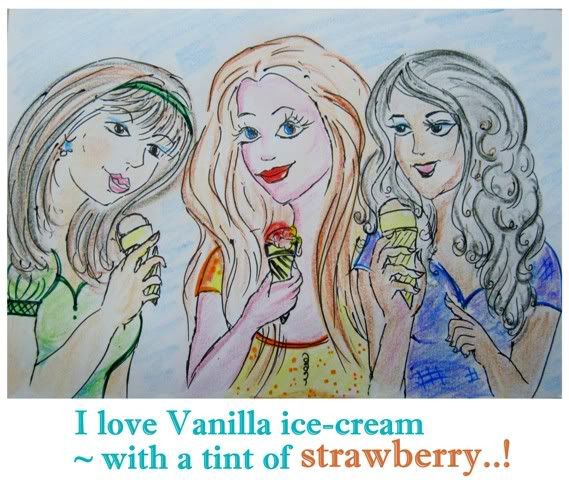 Scoop of life - ice-cream

(c)

rachi creations

..


To Enlarge CLICK here
~
*
~
Scoop of life in ice-cream ~ 77fiction
At weekend, we three friends went ice-cream parlor.
"Three Vanilla flavor ice-cream", I said to the parlor boy.
In scorching heat, we were relishing our ice-creams.
Suddenly, I discovered my
creamy
Vanilla
ice-cream
had a tints of strawberry!
At first, we all got puzzled.
Then one friend said,
"The parlor boy likes you so a special treatment with a trace of Strawberry!"
Other friend laughed pointing towards my lips,
"Look girl! You wore a
strawberry
color
lip-stick!"
~
*
~
Note:
The above drawing is an extension to

RACHI CREATIONS..

created by thyself with basic crayons colors.
77Fictions in seventy seven words limit concept is being inspired from the 77fictions of Mahesh! Hope he doesn't owe a copyright for it :)
How do

YOU

enjoy your ice-cream..!