It been after a long, I have come up with the recipe, though this recipe will not take a long to cook.
~
This is definitely the one of the
quickest,
easiest
, and
delicious
with
few ingredients
of recipe to fulfill your appetite and heart with its sweet aroma and flavor. It is Soya/dill weeds with potato or
Soya Bhaji
.
Perhaps, I don't mind to say this recipe also comes specially for
my dear Lazy friends.
The soya/dill weed/leaves have slender stems, which are finely divided and have lovely
green
soft delicate leaves, slightly broader than the similar leaves of fennel leaves are just amazing. In fact, I don't mind munching few tiny twigs just before cooking them.
~ Nutrition Value:
Above all the nutrition chart will indulge you to eat and relish it.
This popular herb contains
no cholesterol
; but is
rich in anti-oxidants
and
dietary fibers
which help to control blood cholesterol levels. It is also rich in many vital vitamins including folic acid, riboflavin, niacin, vitamin A, beta carotene,
vitamin-C
that are essential for optimum health. Dill weed is a good source of minerals like
copper
, potassium, calcium, manganese, iron, and magnesium.
In addition to it, 100 g of dill weed provides only 43 calories, but its phyto-nutrients profile is no less than any other high calorie food source; be it nuts, pulses, cereals or meat group.
So, let us scroll a bit of history of the Dill/Soya weeds before stepping up to the recipe.
Soya/Dill Weeds with Potatoes
To Enlarge CLICK here
~ History:
Dill originated in Eastern Europe. Although several twigs of dill were found in the tomb of Amenhotep II
(
was the seventh Pharaoh of the 18th dynasty of Egypt. Amenhotep inherited a vast kingdom. His reign is usually dated from 1427 to 1400 BC.
)
They report that the earliest archaeological evidence for its cultivation comes from late Neolithic lake shore settlements in Switzerland. Traces have been found in Roman ruins in Great Britain.
[
Ref. Wikipedia
]
~ Name:
The name
dill
comes from Old English dile, thought to have originated from a Norse or Anglo-Saxon word
dylle
meaning to soothe or lul
, the plant having the carminative
(
is an herb or preparation that either prevents formation of gas in the gastrointestinal tract
)
a property of relieving gas.
In Sanskrit, this herb is termed as Shatapushpa. The seeds of this herb is also termed as Shatakuppi sompa, Shatapushpi, Sabasige, Badda sompu, Sabasiga, Surva, Soyi,
Sowa
,
Soya
in Tamil, Hindi, Telugu, Kannanda, Gujarathi, Hindi, Punjabi etc.
Serves:
2 pax
easily.
Ingredients: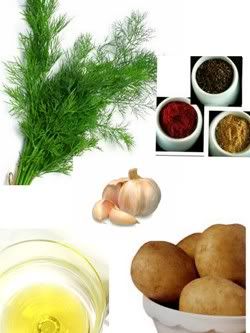 Fresh soya/dill weed - ½- 1 bunch or more (fine chopped)
Potatoes - 2-3 medium (quartered chopped)
Garlic pods - 3-5 (crushed and fine chopped)
Cumin seed - 1/2 tsp.
Red chilli powder – ½ teaspoon
Coriander powder – ½ teaspoon
Salt - to taste (or 1 teaspoon)
Oil - 1 tsp.
Method of Making

of Soya/Dill Weeds Bhaji with potatoes:
Heat the oil in a pan.
Now add and toast the cumin seeds.
Then add the crushed and finely chopped garlic pods until they turn slight golden brown.
Stir in and soon add quartered chopped potatoes.
Cook for 2 minutes. Stir in and then add all the dry spices like red chilli, coriander and salt.
Add soya/dill weed and mix it well.
Cover and cook on medium-low for about 10-12 minutes or until the potatoes are tender.
Serve hot with rice or with chapatti or paratha or any bread.
Note:
Potatoes are optional yet they are delicious and multiply the quantity.
Fine chop or rough chop for the soya/dill weeds will do.
Do not over cook, or eles the soya/dill leaves loses its green color.
Just a quick toss concept has to be considered while cooking this dish.
Some people like to add ginger, garam masala, aamchoor(Dry Mango powder) to it…but I prefer the absolute sweet strong fragrance of soya/dill weeds.
You may also add the Saunf/Fennel leaves with the soya/dill weed leaves to enhance the taste/flavor .
~
O dear sometimes yet sometimes even the
weed
(dill/soya weeds) can be so delicious, and quickest to cook, aren't they!
~
Hope you enjoyed! Try making at home for a better change from the routine food
:)