Note:

55 Fictions is precise form of micro-fiction that refers to the works of fiction limited to a maximum of fifty-five words. Yet this one is in 99 words-limit..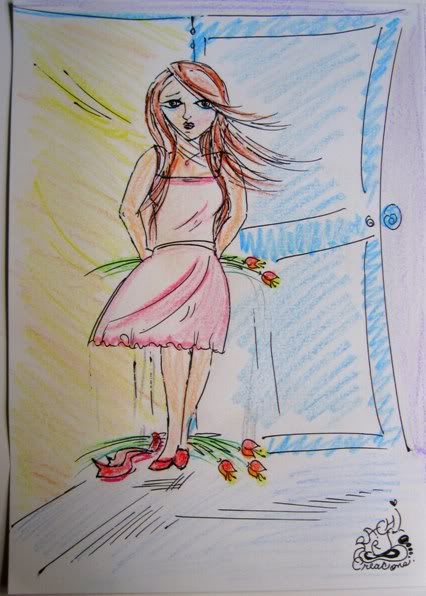 ~

Reboot Self

(c)

Rachi Creations..

~
To enlarge view Click Here
99 fiction
~

Renunciation

~
As
he
described
her
more the
intricacy of
repentance
,
her feeling in the heated tears streamed down the cheeks
assuring the intense pain she felt then.
*
The sadness had turned into anger
and anger
evolved
into tears soon,
followed by the fear,
a fear of losing,
a fear of being lost!
*
She stood still
and turned into a silence,
gathered her strength
and
forced smile
with
a strange
sense of
satisfaction.
*
Probably now she knew where she was sailing..!
*
Her
renunciation
,
surprised him
in those
calamitous
yet
calm
earnest
words,
"I think we should be
just
friends
"!
Dictionary meaning of word
Renunciation
:
A declaration in which something is renounced.
Giving up things of your own interests in favor of the interests of others!
the act of forsaking
a written statement or declaration
the act or an instance of renouncing; a giving up formally or voluntarily, often at a sacrifice, of a right, claim, title, etc.
Exact Meaning of
Renunciation
:
*
The word that has been translated as "renunciation" actually means "the determination to be free".
**
Detachment
in
Buddhism
is connected with Renunciation.
In Buddhist meaning
,
"
Being detached does not mean that we cannot enjoy anything or enjoy being with anyone. Rather, it refers to the fact that clinging very strongly to anything or anyone causes us problems.
We become dependent on that object or person and think, "If I lose it or cannot always have it, I am going to be miserable."
Detachment means, "If I get the food I like, very nice. If I do not get it, okay. It is not the end of the world." There is no attachment or clinging to it."
Indeed, no relationship can exists when clinging and craving feeling is attached with it.
Repentance or Ruining or Renunciation..you decide!
Let go _the Ego today!
"
»
enjoy this video before you wind-up reading!
The Song is "
Why are WE still friends
!" by 98 Degrees,an inspiration behind this 99 fiction LINK:
Click here
.
To Understand better the "Renunciation" click here

Not Escaping but Evolving is Renunciation