This is a series of love.


~

For I don't hate-love-story!
Kindly read the


»

First Part (Click HERE),


»

Second part (Click HERE),


»

Third part (Click HERE) and


»

Fourth part (Click HERE) before reading ahead..
Session with me and my prickly thoughts in park actually pepped up me into something called as perky peace. Passing by, I found a greeting card shop.
Suddenly, a thought came into my mind. I still remember the beautiful hand made greeting card she gave me to wish me good-luck at my college farewell. No sooner I got that thought I hop into the shop to see if I could find something beautiful just like her for her...yeah still my beautiful Soul!
Perhaps, I found a sweet little bright card with a heart and golden shimmer sprinkled all around. It had sparkles and glitters around the aura. It was bright, vibrant and fairly reminds me of her. That card wasn't a huge deal, but sure it got all those right things I wished to have with the sparkles, glitters and a tiny message with ornamental curl handwriting inscribed,
"I wish I could be there with you. Know that you are with me in my thoughts.."
No that line doesn't sound me cheesy at all…It was just such a crisp contour to start with…I thought!
I was happy to grab that gorgeous greeting-card.
And fetched bunch of orange lily was just the right combo to serve the purpose.
Reached the café, still had enough time to relax, grasp back my breath and recollect my thoughts.
I looked subtle and calm with my thoughts looking at the greeting-card again and again. Soon, I took out my pen to write my name.
Perhaps, when everything was alright and owing the moment, I could not resist writing in my tiny curvy kid like handwriting below the inscribed lines saying that,
"I always wanted to THANK YOU for effort you had put in creating the beautiful hand-made greeting card, that you gave me on my college farewell for wishing me good-luck for which it have really worked so well for me…I shall preserve that card glitter, the dazzle thoughts, those sparkling sweet memories and shall always care the bond we have shared together!
Just so you know! Thinking about you and wish you blissful-beautiful life ahead!"
and with my small name under it at the corner.
Okay, it took me
seven long years
which are really long than longer and further took
nearly two hours
more to pen-down, that I was not sure until I confessed thyself that...
"..be hooked its harmless,
it will only grant us gratitude,
happiness in hush and
strength at hard times,
for there is someone who really cares
and swear to share evermore generously
and even more genuinely!"
I don't know if I was making a right kind of decision, yet I know my choice now had more pros than cons!
_It was not about doing right things but about doing things right.
And that was enough to enlighten myself and delighting for HER well-being!
Yes! I still consider and care for her.
Cause' she still means a world to me.
And so created this conclusion for her
concerned choices of life she made to celebrate her Life and OUR Bond.
I counted confidently one to seven for each of year missing.
With a glittering greeting-card and bright bunch of orange lily on the side of the table, I left, leaving a message with the restaurant Manager, to convey her at her arrival.
Perhaps,
left recollecting good times together to a beautiful turn...with
colors of card
and
scent of flora
!!
Though I left,
I was all packed and profound with the magnificent memories trail renewal which was lost in the busy sheer life in seven long years. I knew my guitar was missing the tunes, I created. I shall still close my eyes evoked listening sweet chimes of her. I shall remember, recollect and cherish those careless days of college forever…!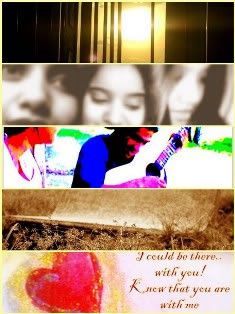 It started raining again hard....Ahh...let it rain...Just let it...Let Go...
I made a biggest mistake by never telling her what I felt yet only then I apprehend amazing life blessed me that I posses the best memories about in whole. Only wish if I could steal a little more time with her...
It was all about the logic I had that serene moment.
Indeed, Life is all about choosing liberally between ones likeness and other's limitation.
It was not about behaving like a life time looser or fleeting mad lover but conducting yourself as a leader or else life loses its meaning…
the bond
which we cherished might just lose it entity!
~
I just realised...it was always there at back..supporting the forth..in good faith!
Perhaps, a life lesson, I learnt and discovered it only then after seven years plus two hours plus seven minutes.
~
Sure, still when it rains, in silence around, stirring soul, guitar strings…and stillness again or when her reflection brings sun shine all over my respite…she was still doing something good...still making me a better man...I wished to....
Yes! In a way unconsciously I proved her correct and she will recognize that
I was still the same,
as I wanted to be what SHE always wanted ME to be
...
"
Spontaneous-Headstrong-focused-warm all at the same time
" as she tagged me in
'weird tag expression'
!!
-----------------
...i
dont
Hate
Love
Story..
I hope you enjoyed the whole series!
Thank you so much for your prompt reply on every post. It really helped me to shape and get the story evolved.
»
It is truly difficult to clear the doubts by telling a sort of story plot to someone, without spilling the beans...I did that and want to thanks my
very close dear friends
who actually influenced me to write something like this which gets butterflies into the stomach. I also want to thank, some other wonderful talenetd souls, specially
the contributors
,
Sameer
,
Amit
and
Vijay
for letting me use their best art work which actually connected a lot and enhanced the whole post presentation. Last picture of the greeting card is my collection of
'Rachi Creations..'
Thank you for being
persistent and patient
in reading…Thanks again each one of you :))
Bwt:
'Arav' name means 'Calm, peaceful'
and 'Srishti' means 'World, Creation'