Grapes turn sour!
Nope I'm not saying any sour grape proverb. Few days back I bought some grapes and they were too sour to eat :(
Being cozy on the couch, up my heals, holding higher up the bunch of sweet and luscious grapes and eating each one at a time, is what I love the most.

Yeah! Even I'm lazy and I love it.

A lazy day and me a lazy one, takes two slice of bread and heap of
sugary sweet jam
over it and in my mouth goes a
full of life bite
, bouncing me back so lively.
However, when the grapes turn sour, I prepare sweet jam, simple! The recipe of the grape Jam is very easy and hardly takes time to prepare.

This recipe is for all who are happy to

revisit and will revisit the happy

childhood days. Enjoy this delicious comfort food.

So let's hop a bit into some history, facts and origin of the grapes and jam sandwich followed by the Grape Jam recipe.
A grape is the non-climacteric fruit, botanically a true berry which grows on the deciduous woody vines. Bunch of tiny fruits, grapes are eaten raw and are used to make jam, jelly, vinegar, wine, grape sees extracts, raisins and grape seed oil. Grapes are also used in some kinds of confectionery. It is grown in clusters of 6 to 300, and can be crimson, black, dark blue, yellow, green and pink.

Nutrition Value of Grapes:
The rich nutrition and anti-oxidants in grapes make this fruit wonderfully healing and is a miracle help for many ailments. Tiny grape has high content of vitamins A, B1, B2, B6, C and abundance of minerals which includes calcium, chlorine, copper, fluorine, iron, magnesium, manganese, phosphorus, potassium, silicon and sulphur. Grape seeds have highly protective flavonol anti-oxidants that scavenge free radicals and promote the growth and repair of tissues.

Origin Fact about Grapes:
The appearance of
Common Grape Vine
(Vitis vinifera) is a species of Vitis on earth has been dated to between 130 to 200 million years ago. Mankind's relationship to this plant dates to the Neolithic period.
Amazingly, the ancient Egyptian '
Hieroglyphics
'
also shows the cultivation of grapes for both eating and wine production
. "Hieroglyphs" refer to the characters made by graphical figures, be it animals or objects. The features that are visually well arranged about heavenly bodies, natural phenomena, animals and plants, God, humans, residences and households were used for
3000 years
for recording Egyptian.
Ancient Greeks called this system Hieroglyphs, literally "

sacred writings

", because it was mainly used by government officials for God.

Wild grapes were harvested by foragers and early farmers. For thousands of years, the fruit has been harvested for both medicinal and nutritional value; its history is intimately entwined with the history of wine.
Jam Sandwiches
are a type of cuisine which are composed normally of two slices of bread, butter or margarine, and jam (traditionally strawberry) which is normally consumed at lunchtime or as a quick
"snack."
Ref.wikipedia
Jam Sandwiches are thought to originate at around the
19th Century
, in the United Kingdom as an affordable food which was mainly consumed by the lower/working class people of cities such as London. The plausible reason that most lower/working class people consumed this as a major part of their diets is that it was the ingredients that it is made from cost little to manufacture and due to taxes being lifted on sugar in 1880, became widely available as a cheap foodstuff.
So here is the recipe of Grape Jam.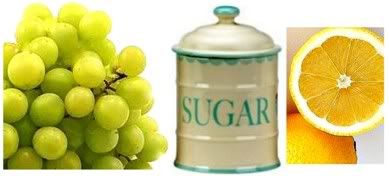 Ingredients

for the

Grape Jam:
Grapes fruit- 250 grams
Sugar – ½ cup
Lemon juice – 2 tbsp
For your convenience TWO different ways are mentioned to make this jam. One method is making the Jam in the

Microwave Oven

and other making the jam on the popular common

Stove

.

Choose the method that you feel comfortable in.

Follow the steps accordingly.

Making

of the Grape Jam in
Microwave
Oven:
Wash the grapes enough to remove the dirt. Slip skins from grapes. Remove seeds from the grapes if any and cut into half.
Mix the sugar and grapes in the microwave safe bowl. Microwave at 100% power for 3-4mins, or till the grapes are softened.
Microwave (covered) the mixture at 60% power for 7-8mins, or till its slightly thickened and translucent. Stir in between to prevent scorching.
Stir in the lemon juice, pour in sterilized jar and refrigerate.
Making

of Grape jam on

St

ove:
Wash the grapes enough to remove the dirt. Slip skins from grapes. Remove seeds from the grapes if any and puree it in the mixer grinder.
Transfer the puree of grapes on a heavy bottomed pan.
Add sugar and cook over low heat, stirring constantly, until sugar is completely dissolved. (Do not allow mixture to boil until sugar is dissolved)
Bring jam to a boil and boil rapidly without stirring until the jam has reached the setting point. (This can take from 5 to 20 minutes)
Keep stirring frequently until the pulp is broken down into a thick mixture. This will take about 20-30minutes.
To test the jam, remove it from heat, then drop a teaspoonful on a chilled plate and chill it for 1 minute. Tilt the plate: Jam should remain in a mound and not run. If jam runs, continue cooking at a slow flame and let it boil for sometime.
When it is really add the lemon juice and mix it well.
Seal and store in sterilize jars and refrigerate.Jam is ready. Relish it!!
This
Grape Jam sandwich
of for all those who haven't eaten one for years. It's just
one humble bite
that takes you straight back to your childhood. Enjoy this sweet simple signature sandwich,
Happy Children's day :)
The post "

Sweet Simple Signature" Sandwich

has been selected by

Blogadda

as one of the

Spicy Saturday pick

.